"Ukraine Might Join NATO without MAP": U.S. Embassy Interview
Monday, 16 May 2022 —

, European Pravda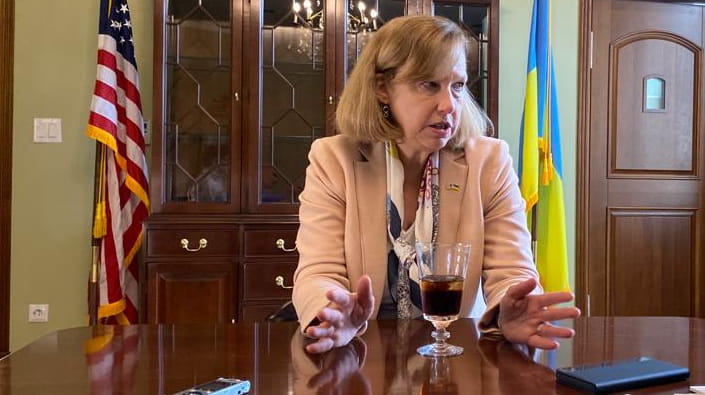 Kristina Kvien has been the head of the U.S. Embassy in Ukraine for more than two years as the U.S. Charge d'Affaires".
Recently, she has returned to Kyiv, sending a signal that security environment in the Ukrainian capital has changed.
This is her first interview upon return. We publish her chosen answers as bare quotes, grouped by the topic
Possible End of War
Ukraine should win the war. And it's not us, but Ukraine should decide the terms for victory. The Ukrainian government and the Ukrainian people should make a determination about what victory means for them and what they are willing to accept or not accept.
We want to support Ukraine in whatever they feel a victory.
We do want to see increased security, meaning Russia is less threatening to its neighbors and Europe. Ukraine should feel secure as well. And Secretary Austin has said that it is a goal of our work to see Russia strategically weaker. Otherwise, President Putin might do something as irresponsible as he has done in Ukraine in other places.
Chances of Liberating the Occupied Territories, Including Crimea
So far it seems to me that Ukraine has been very successful in pushing back Russia. They pushed back Russia in North of Kyiv, they have now pushed back Russia around Kharkiv. And it is not illogical to think that Ukraine might be able to push back Russia in other areas which Russia has been able to occupy.
We specifically haven't discussed Crimea and Donbas in terms of our military support. We do recognize and have always recognized Crimea as Ukraine. Ultimately, it is up to the Ukrainian government and the Ukrainian people to decide what it wants to see as the final resolution.
I have heard the rumors that we are not giving enough weapons to win and push back the Russians from Donbas or Crimea. That is not very true. You have pushed them back. We want Ukraine to be able to push Russia and win the war.
And we are doing everything we can to help Ukraine win.
Chances of Using Nuclear Weapons
I am not aware of any particular red line for Putin to use the Nuclear weapon, that we have identified. We have not set any red lines, and I don't know if Putin has set any red lines.
For Putin to threaten us with nuclear weapons is a completely irresponsible statement. Even to hint at it is irresponsible. It goes against Russia's policy that Russia has set in the past. The nuclear war is not winnable. They would not use nuclear weapons in the first instance.
President Biden has publicly made clear that there would be strong consequences. We have not seen evidence that Russia is preparing its nuclear weapons. Our hope is they will remain responsible keepers of nuclear weapons by not using them and not threatening them.
Ukraine and NATO
The US is only one of 30 NATO member states. We continue to support the open door. Russia's aggression has not changed our mind on keeping the door open for any aspirant, including Ukraine. I cannot say that it is not possible because it is up to our allies.
Considering Finland and Sweden, I am not sure their way is a fast track. I mean, it's the minimum qualifications for NATO. Sweden and Finland have been working with NATO very closely for decades.
Meanwhile, the Membership Action Plan has never been a requirement to join NATO, therefore Ukraine can skip MAP, too. And I wouldn't call that a fast track.
MAP is a mechanism by which you work to meet all the requirements. If you meet all the requirements already, you don't need to go through the MAP.
Reopening the US Embassy in Kyiv
Even though we left the embassy and went either to Washington or to Poland, we haven't stopped working. The embassy building has obviously stopped working but we didn't stop working. So, now, we are coming back and of course continue the work we are doing. It is great to be here because I do think that ultimately we can do much more here in person. Especially, on the side of talking to contacts and getting a sense of the situation.
We have a small footprint here and we hope to expand that in the future. We are not officially open yet. We have not put the flag on the flagpole. It was just the first trip back. We do hope to open officially soon and to expand our presence as much as the security situation will allow.
Almost every day, we are assessing the situation and as soon as we can start bringing more and more people in, we will do that.
I don't know when the Senate will do their final vote on appointing Bridget Brink as the Ambassador to Kyiv. If she is confirmed, she will be able to come soon. Maybe in the next month or so. She has strong bipartisan support. I watched her hearing. It seemed to go well.
Lend-lease
Lend-lease is just a way to give the President more flexibility in his ability to provide weapons quickly. It is sort of a cut through all of a red tape that normally you have to go through to transfer weapons to a country.
The idea to say that we are going to lend them to you rather than sell of just provide is that with lend-lease you don't run into all of those restrictions for weapons sales. It is just a mechanism to speed the provision of weapons to Ukraine and remove the red tape.
Lend lease will not put Ukraine into any great debt after the war. It is really a mechanism to provide things easily.
There is not even an expectation that it will be paid back or returned.
Bipartisan Support for Ukraine
The House of Representatives passed a 40 billion assistance package for Ukraine and it was even an increase of what the President even asked for. And he asked for a lot. I do think it just shows the incredible strength of support for Ukraine in the Administration, in the White House and also in Congress. I would say on both sides of the aisle in Congress.
Every representative is fully free to have their own views. And I respect that. But the vast majority of the US Congress people, both Republicans and Democrats, support Ukraine.
That bipartisan support is almost unique in the American parliament. There are not a lot of things that both parties almost unanimously agree on. And support for Ukraine is one of them. Yes, there are a few people that disagree. They have a right to disagree but if you look at the numbers right now, the US Congress overwhelmingly supports Ukraine, the Administration completely supports Ukraine.

If you notice an error, select the required text and press Ctrl + Enter to report it to the editors.