Ukraine's EU Membership Perspective Correlates with NATO Membership Path. Interview with Deputy Secretary General of NATO
Monday, 27 June 2022 —

, European Pravda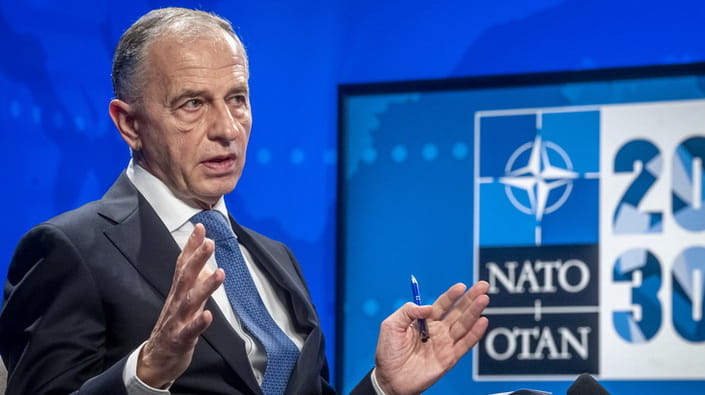 Deputy Secretary General of NATO Mircea Geoană can be described as "Ukraine's chief" in the Alliance, although this is not his official duty.
Based on his country's example, the Romanian diplomat understands the peculiarities of the movement of Eastern European countries to NATO. He has taken over a significant part of communication with Kyiv and can explain NATO's processes and decisions regarding Ukraine.
We interviewed him right before Alliance's summit in Madrid.
Even though the first official statement on the correlation between NATO and EU membership was the most significant, there are also many other important details in this conversation.
– Let's talk about NATO the summit, which is approaching. What should Ukraine expect from this meeting?
– The summit in Madrid will be one of the most transformative summits in the history of the Alliance.
Our leaders will decide on the strategic concept. We will make decisions on strengthening the posture of NATO on the eastern flank.
We'll be welcoming President Zelensky virtually on the first day of our summit. We'll be approving a new package of assistance for Ukraine from NATO. And I think our leaders will reconfirm our strong interest in continuing to support Ukraine, the Ukrainian people, and the military to continue to defend the country successfully and eventually win this war.
– We used to hear from Ukrainian officials that they expected more support from NATO itself, not from the Allies. Do you expect some critical statements of our authorities to be addressed?
– We fully respect the way president Zelensky expresses his position. The same goes for statements by the Ukrainian government, Foreign minister Kuleba, Defense minister Reznikov, vice-PM Olha Stefanishyna, and all our friends in Ukraine.
To be frank, if I were in that situation, I would probably do the same.
But I'm trying to explain that we took a deliberate decision to provide Ukraine with significant but nonlethal support from NATO. In contrast, Allies and partners support Ukraine with lethal military equipment.
In the end, what's more important? The division of labor between NATO and its allies or the end product and how much do we help Ukraine?
I would encourage our friends in Kyiv to look at our assistance as a whole, as the joint assistance by the democratic West.
It's defense. It's cyber. It's resilience. It's a fight against disinformation. It's help for the macroeconomic stability of Ukraine, which is in jeopardy. It's help in attempts to lift the blockade of the Black Sea. It's commitment and reservation of finances for post-war reconstruction of Ukraine.
Yeah, sometimes there is criticism against NATO, but I would like to say that it's more important for Ukraine and for us to see the comprehensive support that all of us are giving Ukraine. And this is something that will be reconfirmed in Madrid.
Ukraine and the Ukrainian people should count on us that will continue to help.
***We will also help in Ukraine's transition toward the NATO equipment.
The Soviet era of equipment is over.
What we see now is the last if you want of it. And NATO will play a role in ensuring that Ukraine continues to have a strong military and successful transition from the Soviet era to modern Western equipment for Ukraine.
– There was an expectation in Ukraine that NATO could lead coordination efforts in weapons supply to Ukraine. But you refrain from it. The "Ramstein format" is organized by the US, not by the Alliance.
– When the Allies decided to have this division of Labor, NATO dealing with nonlethal support and the Allies taking the military support, that was a deliberate decision.
NATO is an organization that is the "risk owner."
With all due respect, our number one job is to protect 1 billion people living in NATO countries, where article 5 does operate. That's why we try to avoid the risk of escalation, as the war between Russia and NATO would be something that is in the interest of no one.
Meanwhile, the Ukraine support contact group meeting, known as the Ramstein process, just recently took place in NATO headquarters before the NATO Defence Ministers' meeting. Ukrainian Minister of Defence Reznikov was in person here, at NATO headquarters!
Ramstein process is an exceptionally functional and practical way to cooperate, and probably it's even better to do it like that (under the US umbrella -EP) without having a big bureaucracy (under official NATO leadership), just because it's faster, which is important in times of war. And I think that should be satisfactory for Ukraine.
Indeed, sometimes I see the criticism against NATO, and I understand why. But I think this criticism is unjustified.
What you receive from us is more important than who's doing what.
– What kind of nonlethal help does NATO provide to Ukraine?
– It's fuel, it's equipment to fight chemical, biological, radiological, and nuclear threats. It's support in the cyber domain, in the fight with disinformation. It's about resilience.
And also, please do not forget that we've been training the Ukrainian military since 2014 since the illegal annexation of Crimea and a portion of Donbas.
***Of course, we all applaud and admire the courage of Ukrainian troops.
But one component of that success on the battlefield is the fact that they were trained by NATO standards.
Many contribute to this: NATO is an organization, as well as individual allies like Canadians, Brits, Americans, Poles, Romanians.
Such a successful military operation by Ukraine is a combination of heroism and ingenuity - we see lots of smart ideas on the ground. And the logic behind those ideas is a NATO-style of command and control.
This is something where NATO has helped Ukraine.
We'll continue to support Ukraine in its fight against Russia and its Euro-Atlantic aspirations.
– Do you expect some changes in the open door policy regarding Ukraine in Madrid? For instance, is that possible that NATO says that MAP could be skipped for Ukraine?
– We received a letter on this topic from ministers Kuleba and Reznikov addressed to the NATO secretary general. They suggest to us a more, let's say, precise way forward (Ukraine's membership -EP).
I cannot prejudge what our leaders will decide on it.
But I can say that in Madrid, there will be a strong reconfirmation of the open door policy. We'll continue to support Ukraine in its fight against Russia and its Euro-Atlantic aspirations.
Meanwhile, I'm particularly happy – both as a NATO leader and as a Romanian, that the EU has taken a decision on the candidate status for Ukraine and the Republic of Moldova.
And again, we should look holistically into these paths.
– Do you mean that the ways toward the EU and NATO are connected?
– Until now, that was a fact.
Since the fall of the Berlin Wall, the successive waves of enlargement went the way: NATO accession first and EU accession following.
We don't know which will be the case for Ukraine or Moldova or Bosnia, or Georgia. We'll see. But there is an interdependency between the two organizations. We will see how the balance between the two will be played this time, and we'll decide this together with our Ukrainian friends and partners.
– Recently, Finland and Sweden have made formal applications for their membership. What does it change for us?
– Sweden and Finland are two of NATO's closest partners.
They are impeccable democracies. They have a state-of-art military. They've been very interoperable with NATO for many years. We don't anticipate their accession to NATO to be somehow difficult – of course, after the discussions between Turkey and the two aspirant countries are addressed.
But there is no automaticity between the enlargement for Sweden and Finland and the one for Ukraine. These are two separate tracks.
But we continue to work with Ukraine to prepare for your Euro-Atlantic integration in the future, too.
– Finland and Sweden are becoming members without MAP. Does it mean that one day, MAP could be skipped for us, too?
– It's a massive difference between any former Soviet military of any new allies coming from the East and those of Sweden and Finland.
Also, it's for the first time we get members of the EU coming into NATO. Until now, it was another way round: new members of NATO got into the EU.
So I think we should look at Sweden and Finland as distinct cases.
The path is more complicated when it comes to former communist or Soviet countries. The reforms inside our countries are more complex. Having efficient government, civil control of the military and intelligence services and fighting corruption is more acute in our post-communist realities.
I understand why there is this interest from Kyiv to basically connect the two. They are connected, but they're not identical. They are two different situations.
– We expect a world food crisis if the Black sea is not unblocked. Do you see that NATO is ready to step forward? Can you provide, or at least discuss, a no-fly zone above the sea to provide safety for ships.
– This is a very serious issue. It's a big issue for Ukraine, as your economy is already suffering a lot. Russia is piling your storages of grains, and they're blockading the Black Sea, thus creating big difficulties for countries in the Middle East and Africa.
So we're trying to find solutions.
The first side is to find alternative transportation capabilities by land and by rail. This is something that the EU is helping with, as well as your neighbors.
And we see there is already an increase in the exports of the Ukrainian grain to the markets. Of course, much less than before, but moving forward.
The other issue, which is indeed very complex, is how to have corridors across the Black Sea.
That will be done with Russia because Russia is a player in this.
Turkey, the NATO ally, is playing a constructive role in trying to find a solution that will be viable. And I believe that the UN is the best actor here, too.
We don't feel and don't think that NATO imposing military options will be of help in this situation. This will lead only to escalation.
The idea is to find a fast solution both by land towards the East and also by sea across the Black Sea, the Bosphorus, and then to the world market.
We firmly condemn Russia and will continue to help Ukraine as long as it is asking for our support
– Let's assess the state of war in Ukraine. What do you expect to happen soon? What is the possible outcome of the war? And how does the attitude towards Russia changed?
– Our attitude towards Russia is the one that we should take against an aggressor, acting in a barbaric way, attacking its neighbor, killing civilians, and raping women and girls.
These atrocities and this kind of misbehavior have been met by NATO, the EU, and all democracies in Europe and beyond with a sense of intransigence and a sense of unity.
***The war is now in a very important stage.
That's a war of attrition already.
Losses are mounting on both sides. Russia has lost a lot of its people and equipment. Also, Ukraine is suffering more losses than before because of the character of this war.
We do not believe that Russia has changed its strategic ambitions when it comes to Ukraine. But we know that Ukraine is strong with our help to resist that and eventually win this war.
Lots will happen on the battleground. Unfortunately, we believe the war will take some time - we don't see political conditions for both sides to meet somewhere in the middle.
It's our obligation to continue helping Ukraine militarily, financially, diplomatically, and in the humanitarian dimension.
We are immensely admiring your courage. And we will be staying with you all the way long.
Interviewed by Sergiy Sydorenko
Video by Volodymyr Oliinyk
European Pravda
If you notice an error, select the required text and press Ctrl + Enter to report it to the editors.