Kaliningrad: What Russia's Threats to Lithuania Might Lead To
Wednesday, 22 June 2022 —

, European Pravda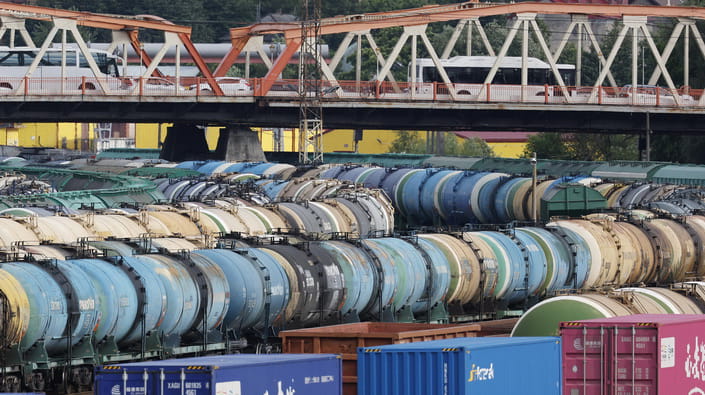 Moscow is now actively thinking about its response. Significantly, Russia does not possess any economic influence on Lithuania.
It increases the risk of a violent response even though Lithuania is a NATO member.
Expected-Unexpected Ban
The ban on transit came into force on June 18. At the same time, at first, it was only about the rail route, but then Lithuania also banned road transit.
In response, the Lithuanian Foreign Ministry notes that Vilnius "did not impose any unilateral, individual or additional restrictions."
The fact is that Vilnius shut the route for the transport of steel and other ferrous metals on June 18. This is exactly what restrictions were imposed on.
And from July 10, the list of goods prohibited for transit will expand - cement, wood, alcohol, and even caviar. From December 5, oil and oil products will also be banned.
Thus, Lithuania points out that Russia should have known about the planned EU sanctions long ago. Therefore their allegations are clearly far-fetched.
Josep Borell, High Representative of the European Union for Foreign Affairs and Security Policy, also supported Lithuania. He said, "there is no blockade" and "Lithuania is simply following the instructions of the European Commission."
However, Russia still has a point. After all, transit goes not to third countries but from one region of Russia to another. And transit to Kaliningrad across Lithuania reminded Russia is guaranteed by the Russian-Lithuanian international agreement (Russians have great respect for international agreements when they benefit from them).
Such a point could allow Russia to achieve the Kaliningrad transit exception. But they prefer pressure and threats.
Pressure Strategy
"Russia will certainly react to such hostile actions. We will take appropriate measures soon, and their consequences will affect the population of Lithuania," Russian Security Council Secretary Nikolai Patrushev threatened Lithuania.
This statement and many others from lower-ranking speakers indicate that Russia is ready for conflict. It wants to show Lithuania and the EU its force and force them to make concessions.
Russia's main weapon is gas. However, Lithuania was the first EU country to announce a complete and definitive refusal to purchase gas from Russia. They will replace it with liquefied gas coming to the LNG terminal in Klaipeda.
Patrushev also announced the mirror transport blockade for Lithuania and the refusal of the Klaipeda port, which sounds ineffective.
Russia does not have any economic influence on Lithuania.
Lithuania depends only on electricity supplies nowadays.
However, nothing is simple here. First, Lithuania buys electricity not from Russia but from Belarus. Secondly, such a blockade will also hit Kaliningrad. And more important, Vilnius claims it is ready to quickly disconnect from the joint energy system with Russia and receive electricity from the EU.
We can assume that Russia might use force if it cannot threaten Lithuania with energy.
February 24 showed that Putin is ready to make any crazy decision, but a full-scale war against a NATO member seems highly unlikely at the moment.
+++ Besides, it does not exclude certain "hybrid-force" options.
For example, military exercises in the Baltic Sea will temporarily block the supply of liquefied natural gas to Lithuania.
The move is unlikely to intimidate Lithuania, but it could impress Brussels.
And this is probably the biggest risk of this crisis. After all, as practice shows, any concession to Putin encourages him to increase pressure.
Written by Yuri Panchenko
European Pravda
If you notice an error, select the required text and press Ctrl + Enter to report it to the editors.