Crimean Plume. Ukraine Clashes with the Belgian Foreign Minister over a Visit to the Occupied Peninsula
Thursday, 28 July 2022 —

, European Pravda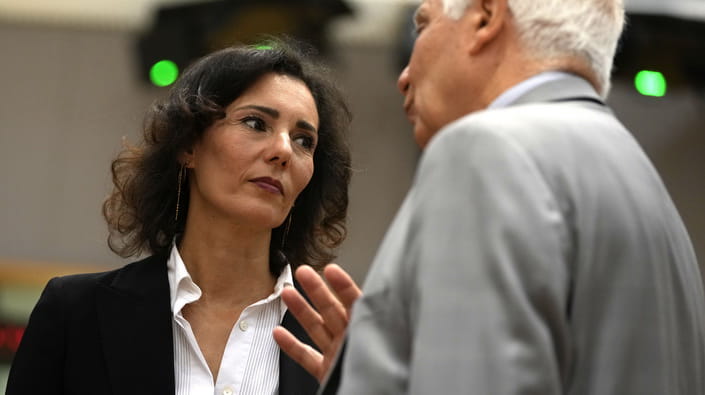 Virginia Mayo/Associated Press/East News
In late July 2021, a cultural festival, "Global Values," was organized specially for Vladimir Putin's family in occupied Ukrainian Sevastopol. The dictator's daughter, Ekaterina Tikhonova, personally supervised the event.
Belgian TV journalist Hadja Lahbib covered the festival. She flew to Crimea through the Russian Federation, broke Ukrainian law, and upon her return, made statements doubting that Crimea was still Ukraine. Although just a few people paid attention to the words of a journalist then.
In less than a year, Hadja Lahbib unexpectedly turns into a politician. She was appointed as the Belgian Minister of Foreign Affairs on July 15.
The Crimean episode makes both official Kyiv and the Belgian coalition face a difficult choice.
No one wants to destroy relations with Belgium, an EU and NATO Member state. However, it is impossible to tolerate such actions because it would set a dangerous precedent.
Especially when it turned out that Vladimir Putin's daughter's foundation paid for Lahbib's trip to Crimea.
Crimean story of the new Minister
"European Pravda" told this story in detail.
Hadja Lahbib visited Crimea in July 2021. First, she attended the "Global Values" festival on July 23-25, and then traveled across the occupied peninsula (she told about it on Facebook: July 26-28).
Upon arrival to Brussels, speaking on RTBF, she didn't answer whether she saw Crimea Ukraine or Russia. She later mentioned the trip to Crimea with the words "I went to Russia," which is unacceptable for Ukraine.
In addition, she mentioned she arrived in Crimea by plane, which "required a Russian visa." Traveling to Crimea by plane is illegal: foreigners could legally travel to the occupied peninsula only from the mainland of Ukraine. The law requires Ms. Lahbib to be fined and banned from entering Ukraine for three years.
It seems the newly appointed Minister does not see the problem.
She only commented, "This trip was part of my journalistic work." As if working as a journalist means immunity from adhering to the law!
Puzzled Brussels
We should emphasize that after being appointed to the government, Lahbib sounds strongly pro-Ukrainian. The party she represents, as well as the government of Belgium, also supports Ukraine.
Even before the scandal, Lahbib stated her first foreign visit would be to Ukraine. On July 28, she published a letter to her Ukrainian colleague Dmytro Kuleba on the Ministry of Foreign Affairs website. Sources say she has already requested this to the Ukrainian side several times.
However, Kyiv has so far declined it, as EuroPravda found out.
The spokesman of the Ministry of Foreign Affairs of Ukraine, Oleh Nikolenko, confirmed that the ministry is "establishing through diplomatic channels all the circumstances of the trip to make decisions regarding further bilateral contacts."
"European Pravda" could not get Hadja Lahbib's comment.
"Since the trip you are referring to happened before Mrs. Lahbib was appointed Minister of Foreign Affairs and within the realm of her then profession, the Ministry of Foreign Affairs will refrain from making any comment," said Wouter Poels, spokesman for the Ministry of Foreign Affairs, to "EP."
The Minister's personal communications team also refrained from commenting.
However, while communicating with representatives of Brussels, EuroPravda got the impression that Lahbib's team is sincere in their lack of understanding of the problem. For example, in written communication, one of our interlocutors tried to justify the boss, saying she insisted in an interview in 2021 that "Crimea being part of Russia is a challenged assumption."
So she had doubts about Crimea, and it should defend her somehow?
Hadja Lahbib may be a random person in this position. The "Reform Movement" party, which held the Ministry of Foreign Affairs quota in the coalition government, deliberately sought a candidate without political experience and also sought to get the votes of national minorities. Lahbib, who is of Algerian origin, agreed to exchange her journalistic career for a political one.
Money for a journalist at Putin's daughter's festival
The story about the current diplomatic conflict between Kyiv and Brussels would not be complete if we did not mention the circumstances when the story began.
Russia has invested funds to "normalize" the perception of the Crimea occupation worldwide for eight years. Recently, it has focused on "soft power." They invite artists and opinion leaders to the peninsula. The cultural festival "Global Values," which took place on July 23-25 ​​in Sevastopol, and Lahbib attended it, is just a part of the entire strategy.
It is so important for the Kremlin that they entrusted the festival to Putin's youngest daughter, Ekaterina Tikhonova, without even hiding it.
The title sponsor of the mentioned festival is "Innopraktika&Russian Seasons."
The Russian state backs Innopraktika foundation. It is primarily known for being managed by Putin's youngest daughter, Ekaterina Tikhonova. The Kremlin has never admitted it, but neither has it denied this fact. However, recently Tikhonova has been entrusted with public activism. It is not forbidden to even write about her family bonds with the dictator in media friendly to the Russian authorities.
The trip of the future Minister of Foreign Affairs of Belgium in 2021 was paid for by Putin's daughter foundation.
RTBF TV channel, where Lahbib worked, confirmed it. RTBF also stated they were offered to shoot a documentary at the Russian expense, but they had to decline the offer. They lacked guarantees of journalists' freedom.
However, in August 2021, Hadja Lahbib gave a different opinion and did not feel any problem. "It was a very exciting trip. I was very impressed by the cooperation that Russians are capable of at the artistic level. (The documentary will be prepared) very soon, we need a little more time," added the future Minister of Foreign Affairs in a video interview.
What should Ukraine do?
Kyiv says it does not plan to ignore this story. But it also does not want a public conflict. Belgium is an EU and NATO member state. The Lahbib party is friendly to Ukraine. EuroPravda's sources confirm that Ukraine is now in touch with Belgium, explaining they should find a solution.
So far, no success.
On Thursday, Hadja Lahbib wrote an open letter addressed to Dmytro Kuleba and lost her chance. Lahbib emphasized that Crimea is Ukraine, but she did not mention her trip to the peninsula last year, did not apologize, etc.
This situation reminds us more and more of the story of the Moldovan ex-president Igor Dodon. In 2016, during the election campaign, he declared that Crimea belongs to Russia, which outraged Ukraine.
After being elected president, Dodon changed his mind. He stated, "in Moldova, it is impossible to recognize Crimea Russian." He kept saying about "the integrity of Ukraine," but he never apologized. As a result, all these years, Ukrainian officials refused to meet with Dodon. He became unmanageable.
It will be sad if the Belgian Foreign Minister chooses the same path.
There is a way out. Hadja Lahbib should understand that without a clear apology and recognition of her mistake in 2021, she will not be able to conduct a dialogue with Kyiv. Or the Belgian Parliament should understand that her appointment was a mistake.
Only Belgium can make this choice. And Ukraine must not concede in matters of principle.

Written by Sergiy Sydorenko,
"European Pravda" editor
If you notice an error, select the required text and press Ctrl + Enter to report it to the editors.