"We've heard that Ukraine wants to join NATO". Deputy Secretary of State interview
Wednesday, 16 February 2022 —

, Sevgil Musaieva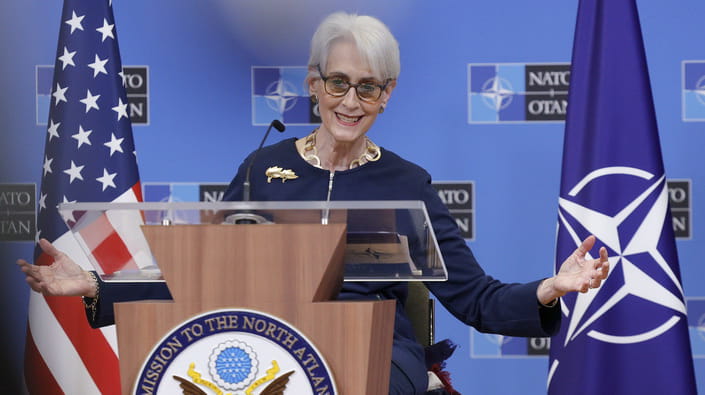 Wendy Ruth Sherman is the U.S. Deputy Secretary of State. She is an American diplomacy legend, known also as Silver Fox for her specific negotiation tactics and white hair.
Under Obama, Wendy Sherman chaired talks with Iran over a nuclear deal. Nowadays, she is responsible for the US negotiation with Russia on Putin's security ultimatum.
We spoke briefly by phone on the evening of February 15, the eve of a date that many consider likely to be the day of the Russian invasion.
What to expect if a major invasion does not occur? What is a red line for tough US sanctions? Read in an interview to European Pravda and Ukrainska Pravda.
"There is a possibility that Putin will keep troops surrounding Ukraine"
– February 16 is named as a possible invasion date. Although it seems that this day will remain quiet. But does it lift the invasion threat?
– I wish I could read President Putin's mind. I can not think of another instance, when he has gathered above 100 thousand troops surrounding Ukraine, brought in helicopters, and bombers, and field hospitals.
Although we've heard that President Putin have said and minister Lavrov have said there is still room for discussion and for diplomacy.
Secretary Blinken just on Tuesday, February 15, after a call with minister Lavrov, said that we in fact understand that Russia can launch invasion to Ukraine at any moment, unless we see verifiable, credible, meaningful de-escalation. In spite of the fact Russian say they are removing their troops – we need to see it.
Important to underscore that further aggression against Ukraine will result in quick, severe and united Trans-Atlantic response. We do remain committed to the diplomatic path, and we do believe that it's possible to resolve this crisis peacefully, which is of course [the best option] for Ukrainian people, for Europe and for the world.
– Meanwhile, Putin says he will not attack.
– Yes, and I hope that is true! Putin have said repeatedly that there will not be an invasion. Minister Lavrov have said there will not be an invasion – meaning further invasion to Ukraine I should say.
At the same time, we have seen with our own eyes over a hundred thousand of troops, equipment moving to surround Ukraine.
– What is the red line for tough sanctions? As probably there would not be shelling of Kyiv or something similar.
– On the U.S. point of view, if Russian troops moves across the border – they have invaded. And that mean sanctions.
– You urge Russia to de-escalate by moving troops away. But it also sounds as an idea for Putin: keeping army on the border, he hangs Ukraine up. US embassy and foreigners never return to Kyiv with no invasion.
– Certainly, there is a possibility that he will keep troops surrounding Ukraine to intimidate, to coerce, to try to gain concessions. But it's difficult to keep a military for many months surrounding your country.
So, I'm not sure how long he can keep this up.
It is critical that we continue to share with each other (data and assessments -EP), as President Biden has done with President Zelensky, as Blinken has done with Kuleba and Sullivan with Yermak. We will continue sharing assessment, intelligence, visuals to understand what might happen here.
And let me be very clear: the United States stand in solidarity with Ukraine.
Yes, we have temporarily re-located the core team of our embassy, but we are still in Ukraine! And we're still committed to Ukraine, and we hope to be back to our embassy in Kyiv as soon as possible. We continue, as we did last night, to be concerned about Ukraine's future. We announced sovereign loan guaranties that we're prepared to do, up to a billion dollars.
Since 2014 we have committed $5.6 bln in total as assistance to Ukraine.
And we will continue to provide security assistance, humanitarian assistance, economic assistance to the people of Ukraine.
"That is a choice of Ukrainian people"
– Russian Duma have decided to start recognition of these puppet proxy "republics" in Donbas. What does it mean? Would it mean the end of Minsk agreements if it happens.
– Yes, we have seen reports that Duma will send President Putin an appeal to recognize the so-called Donetsk and Luhansk People's republics as "independent".
Kremlin approval of this appeal would amount to the Russian government's rejection of its commitment under the Minsk agreements, which outline the process for the full political, economic and social re-integration of those parts of Donbas controlled by Russian land forces and political proxies since 2014.
This would be a clear further attempt by the Duma at undermining Ukraine's sovereignty and territorial integrity.
– Last week there has been a discussion on "Finlandization" of Ukraine, meaning NATO membership is not achievable. Is this option on the table?
– One of the things that President Biden have said from the beginning and what I said to my Russian colleagues at negotiations in both Geneva and Brussels: the United States will not do anything about Ukraine without Ukraine. We'll not do anything about NATO without NATO, or about Europe without Europe.
And to your question: this is not a decision for the United States. This is a decision for Ukrainian people. About what they want their future to be, what they want their policy and political orientation to be.
Meanwhile, president Zelensky have again that Ukraine hopes to join NATO, wants to join NATO. And that is a choice of Ukrainian people. Whatever Ukrainian people choose to do and whatever your government chooses to do.
– United States and Allies are sending a lot of weapons to Ukraine to change the military balance, to fill the security gap between Ukraine and Russia. When do you expect this gap to be filled?
– We have provided just this year alone about $650mln in security assistance to Ukraine. We know that other countries have done so as well. And your own defense officials have said that the Ukrainian army has gone stronger and stronger over the years and will in fact defend Ukraine.
There is no question that Russia has the strongest conventional military in Europe. But nonetheless, we know that Ukraine increased its capability tremendously these years and we along with partners want to provide as much assistance as we can to Ukraine.
– Hope that tomorrow we will have no invasion and peaceful morning and evening in Ukraine.
– We hope so, too.
I should tell you that my grandmother was from Prereyaslav, as you all know, that is Ukraine. So, I consider myself as Ukrainian American in many ways.
And hope that Unity Day that president Zelensky have called will be a good one.

Interviewed by:
Sergiy Sydorenko, Sevgil Musaieva
European Pravda and Ukrainska Pravda
If you notice an error, select the required text and press Ctrl + Enter to report it to the editors.