Europe Will Stretch from Lisbon to Luhansk – Ukraine Will Be In, Russia Out: Interview with German Ambassador to Ukraine
Friday, 20 October 2023 —

, European Pravda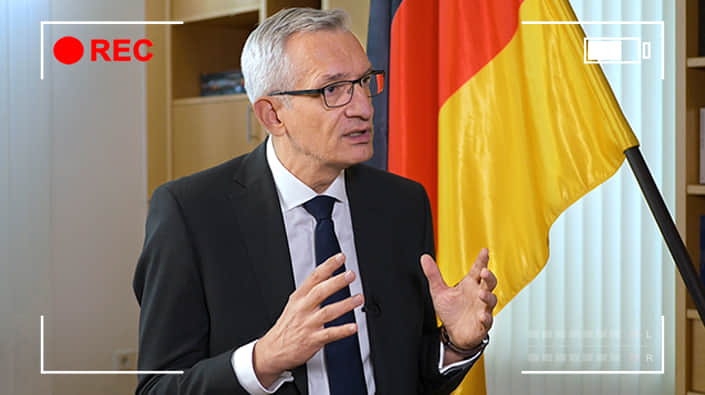 Most G7 states appointed new ambassadors to Ukraine in late summer 2023. While the embassies of the UK and of the EU were headed by individuals who had previously worked with Ukraine, Germany took a different approach.
Martin Jäger, the new German ambassador in Kyiv, had no previous Ukrainian experience.
Ambassador Jäger was one of the few Western ambassadors who arrived in Kyiv with his family. He emphasises that this is an important symbolic decision, a signal that he believes in Ukraine and its victory. He is also one of the few Western top diplomats who doesn't shy away from saying so directly: Ukraine's victory is necessary, and should include retaking Crimea.
In his first interview as ambassador, he spoke to European Pravda about Germany's updated position.
"We do not ask Ukrainians for gratitude"
Martin, I'm really happy to have you with us. I remember 600 days ago, Germany had a disastrous image here in Ukraine. There were jokes about helmets and so on. What is the image of Germany today among Ukrainians?
Yeah, thank you for this question.
My feeling is that the image of Germany, as you have described it, has changed fundamentally since then. Wherever I go, and I travel a lot in the country… wherever I go, I sense a lot of gratitude for what we are doing.
We don't ask for gratitude.
It is just expressed by my partners and interlocutors.
I think people realise that today, Germany is the second largest donor to Ukraine, after the US. No other country is giving as much support to Ukraine as we are. And that is well received.
This is why my feeling is that Germany's image in Ukraine is a good one.
This does not mean that we can't improve it. We should work on that; I'm ambitious in that regard. But now, after 600 days of war, there is a really good foundation.
Recently, we, as an embassy, undertook a poll to find out where Ukrainians place us, compared to other nations. I'm pleased to say that Ukrainians rate us at the same level as the European Union as a whole. For example, we rank very close to the Baltic states.
And I think this is encouraging.
This does not mean that we should stop here, I think there is a lot more to be done, but the basis is a good one.
At a recent conference of German ambassadors in Berlin, it was disclosed that the image of Germany worldwide is described with terms like indecisiveness, unwillingness. Did you manage to avoid that in Ukraine?
I think that in that regard, Ukraine is an outlier.
Because here in this country – and this is my feeling and the feedback I'm getting when I talk to people - people understand that we take decisions, that we keep our word, and that we deliver support.
Can we be sure that this military support will be preserved?
Yeah.
Until when?
As long as it takes.
The meaning of 'as long as it takes' is that we will stand by your side as long as it is necessary. And that definitely does not mean that our partnership and cooperation will end after that, because we have a joint future.
My mission here in the country is twofold.
The first is: I'm here to help you win this war.
And my second mission is: I'm here to help you win the peace.
We can talk about reforms and we will talk about reconstruction, but we will also discuss Ukraine's accession to the European Union. That will probably go far beyond military support, because we see Ukraine as a future partner and friend in the European Union.
We definitely will return to our EU and NATO future, but let me focus first on military support. The war is key for Ukraine right now. How will the war end, in your opinion?
I just said: I'm here to help you win this war. And at the end of the war, Ukraine should prevail.
This is our aim, this is why we're here, and this is why we support you.
What do you see as victory?
Victory is, to put it simply, to restore the territorial integrity of Ukraine.
Including Crimea and...
Of course. Crimea is an integral part of Ukraine.
"Germany wants to have Ukraine in the EU"
Let's turn to the EU and NATO integration issue. We have heard quite a revolutionary statement by [Foreign] Minister [Annalena] Baerbock, who said that Europe is now heading for a united Europe from Lisbon to Luhansk, not to Vladivostok. How do you see a new Europe?
This means that in future, Ukraine will be a part of the European Union.
The path to EU membership is a challenging one. It is not easy, and it will take time. But Ukraine will go along that path, and you will be a member of the European Union in the future. For us, there is no doubt about that and we strongly advocate this.
You are aware of the fact that the European Council will decide in December whether they will kick off accession negotiations with Ukraine.
Does Germany support these negotiations?
Of course!
Not only do we support it, we really advocate it and are working for it.
We have heard some statements, for instance from the President of the European Council, Charles Michel, that 2030 is a realistic date for future accessions. Do you share the opinion that if Kyiv fulfils all the tasks set for it, it will be ready for accession by 2030?
Honestly, it's difficult to make forecasts in that respect.
Becoming a member of the European Union means that, as an accession country, you adopt the entire legal framework of the European Union. So you need to swallow it and digest it.
And you need to align your national legislation accordingly.
That takes a lot of time.
This is not like a menu in a restaurant. You can't say, oh, I'll skip the starter and go straight for the main course, and I don't want dessert. I mean, you buy into it as a whole.
You can't say, I'll go for the single market but I'm not interested in migration or social policy, or that what is being done in the field of scientific cooperation is of no interest to me. This is not how the European Union works, so you have to take it as a whole.
This is why it is really challenging, and my feeling is that today,
Ukraine is already doing as much as they can.
So, that is impressive. You have already started aligning yourself with the standards you have to meet if you want to be a member of the European Union.
But still, it will take time.
I think we must be very honest, when it comes to the EU's expectations. We should not raise false expectations.
We, in Germany, want to have you in, we will support you, and we will give you any support whatsoever that you need to adapt your capacities. Nevertheless, joining the European Union is not an easy process.
But the good news is, at the end of the process, you will be a member of the European Union.
Could you say how this [change of views] happened? Germany used to oppose the European integration of Ukraine for years, but now has turned into our advocate.
I don't find it so surprising!
We simply recognise that there is now a strong political will, a clear determination on the Ukrainian side to join the European Union, which is good, because this is the most important precondition: you must want to join this club.
Now, we see this clearly, and we also see that your government, your institutions are working very hard to adapt to these standards.
And this is why we support Ukraine's accession.
Now, or rather in the future, the European Union will stretch from Lisbon to Luhansk. That is true. That includes Ukraine, but that also excludes a certain part of Europe.
And that is clearly the consequence of this ongoing war launched by Russia.
"G7 offers what we call security assurances to Ukraine"
Let's not hide the reality that Germany is the only European country which is actively opposing Ukraine's membership in NATO. We have seen that in Vilnius [at the NATO summit in July 2023 - ed.]. What is the reason?
No, we are not actively opposing Ukraine's membership. No, don't think that. It is clear to us that the future of Ukraine is within the European Union and NATO.
What we are discussing is the way in which to accede to NATO.
I think when it came to the summit in Vilnius, there was a clear understanding by all parties involved that this cannot be done as long as the war is ongoing.
Article 5 [of the NATO Treaty - ed.] does not apply as long as the war is ongoing.
Everyone agrees on that, including, of course, our Ukrainian friends.
You have a very experienced, battle-hardened army now that might be a huge asset for a future NATO. But nevertheless, first of all, a political decision needs to be taken. For the time being, things are as they are.
And it was no accident that in Vilnius, on the sidelines of the summit, the G7 states offered what we call security assurances to Ukraine, just to make sure and really to prove that our support is not only reliable but also sustainable.
So we will stay with you, we support you, and we want you to be successful on the frontlines,
that you will carry out your reforms, and we will accompany you along the way.
Do you realise that accession to NATO and invitation are different steps? Invitation does not involve Article 5.
This is true.
So in Vilnius, we were denied an invitation, not accession.
The debate in Vilnius went as it went. The outcome is there.
I think after Vilnius, everyone was satisfied. And on that basis, we look towards the future and we continue to work.
Okay. We have a problematic issue, which is, in a word, Taurus.
Yeah.
When?
There will be no delivery of Taurus at this point. I think the federal government, the chancellor, made that clear.
We informed the Ukrainian government of that and explained the position in detail. And this is all I can say in public about this issue.
We don't understand the reason. As we see that our partners refuse to provide us with certain weapons, many Ukrainians consider this means that they do not want us to win as soon as possible.
No, this is not the case.
Our ongoing military support clearly indicates, clearly shows you that, of course, we want you to prevail on the frontlines as well. Along with the recent decision on Taurus, there was also the decision that the EU would provide you with an additional 1 billion euro package, including really important assistance for air defence.
I think today Germany is the leading provider - after the US - when it comes to air defence; a few days ago we made public that we would send one additional Patriot system, a complete system to Ukraine, meaning a command unit, radar, a number of launchers, and missiles - the complete package.
We will also provide you with two additional IRIS-T systems.
And we also announced that we will supply additional Gepard tanks.
We continue to support you, and what we deliver is of real substance.
Could you explain not only to our government but also to our people the reason behind the decision not to provide the Taurus now?
An issue like the decision about Taurus is not an issue that we will discuss in public.
So, we look carefully at the whole dossier, and when it comes to these questions, we always stay in very close contact with the Ukrainian government.
We see a problem, which is not specific to Germany but also is European and even worldwide: the speed of manufacturing defence capabilities.
I agree. We do have an issue here, because production capacities worldwide are limited.
We are stretching them.
Take artillery ammunition: as we have learned, we did not have enough such ammunition in our stocks. The future need for artillery ammunition, not only in Ukraine but also in other states, in the NATO armies, will be very high.
So we need to adapt to the new situation. There is a really huge European programme addressing this issue. We are part of this endeavour.
Is it doable to reach the production speed that is really needed?
Here again, we have to be honest: this is challenging, this is really challenging. But I think, if we take the example of artillery ammunition, of course we may not have enough today, or we may wish to have more today, let's put it that way.
But over the coming year, you will see significant changes.
We see that Ukraine is not the only hotspot in the world. I expect that Israel is also not the last one. Is it possible to maintain the level of assistance for Ukraine?
I agree the situation in Israel and Gaza makes the whole situation we are in more complex, but I do not expect that this will lead to any reduction, at least in our support. I can only talk on behalf of Germany.
We will remain a reliable partner to Ukraine now and also in the future. There's huge support in Germany for both Ukraine and Israel. We clearly see the need for support here in Ukraine, and we will maintain our close cooperation and will stick to our commitments.
"This is not a country for courtesy visits"
Let's touch upon what is referred to as the historical responsibility of Germany. It is still not entirely clear in Germany and even to elites that the historical debt for the Second World War is not only to Russia - but also to Ukraine and hopefully Belarus, too. Do you consider that Germany as a nation is ready to raise this issue internally?
Of course. We do take responsibility.
To us, it is crystal clear that we were the aggressors who were responsible for the last World War.
World War II was initiated in Germany. It was a war of aggression. With that war came many horrible crimes, including here in Ukraine.
I see that in Germany, the perception is that Russia was the state attacked by Nazi Germany.
No, no. I think this perception is wrong. This is not how we see it.
Just take the simple fact that at the very beginning of the war, there was a German-Soviet pact. So the Soviet Union was closely involved back then, and the first victim of the war was Poland!
So it is not about Russia and only about Russia - it's just the opposite.
We do feel responsibility when it comes to those countries that were involved in this war, and we stand by our responsibility.
Ambassador, you used to work in Iraq. Do you see some parallels with Ukraine? Or are the situations not connected in any way?
Maybe because of the fact that I have worked in countries like Afghanistan or Iraq, I'm somehow accustomed to life in war zones or in that kind of context.
But other than that, to be honest, I don't see any parallel, and the mission I have here is a completely different one.
I don't think that I could learn from the experiences I gained there.
Rather, I draw from the experiences I had as a former vice-minister for economic cooperation and development, because in that position I worked with the World Bank and other international players, and we talked about reconstruction of countries.
That kind of stuff, yes, that helps me, but apart from that, the situation here is very specific.
Being ambassador here in Ukraine is a very intense experience, but also a rewarding one. Because we have a common goal we want to achieve, and we work for that.
For example, when I was new as ambassador, I quickly learned that this is not a country for blah blah or courtesy visits. Wherever you go, people always and immediately go straight to the point. They want to know what you are going to do, when you are going to do it and how it will work.
This is really good. It's something I enjoy.
It is not the classic diplomatic thing to do. It's probably not what you might do in other countries. And this is rewarding.
I decided to come to Kyiv with my wife because this is also a signal, a message. We trust your country and we are doing this together.
If I'm not mistaken, you're the first foreign ambassador, at least from an EU member state, who was allowed to bring family here to Kyiv.
I don't know about that. Let me simply state, my wife came with me. Yeah, that's true. We are happy to be here.
My wife is also very interested in the development of the country. She is involved in mental health issues, in veteran issues, and she tries to be as supportive as possible.
As a kind of… of course she's not a first lady, but she's also playing an important role for our embassy.
Was she also with you in Iraq and Afghanistan?
No, no!
So Ukraine is really unique. This is what I told you!
Don't compare Ukraine to these other countries.
This is a unique country and it is not easy to work here, but I'm very glad that I'm here. Because the sense is that here you can do really meaningful things, and I do feel and see that our support is needed and that this support makes a difference.

Interviewed by Sergiy Sydorenko
Video by Volodymyr Oliinyk
European Pravda
If you notice an error, select the required text and press Ctrl + Enter to report it to the editors.