Anonymous American Donated $1 million for Ukrainian Army
Sunday, 6 March 2022
The Ambassador of Ukraine to the United States Oksana Markarova shared the story of an anonymous donor in the United States. She published her official letter address to that anonymous donor.
Ukrainian authorities do not know who is that person. All they know the transfer was made by an individual donor from the U.S.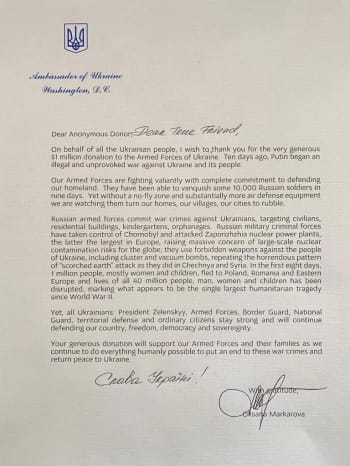 '(On Friday) the account opened by the National Bank of Ukraine received a transfer from a generous American friend in the amount of $1 million. Thank you for this needed support to Ukraine at times when we are fighting for our home!', Ukrainian ambassador wrote.
In her open letter to "anonymous donor" and "true friend" the ambassador also told how Ukrainian army is fighting with complete commitment to defend homeland and was able to vanquish 10,000 Russian troops even without "no-fly zone" yet.
'Your generous donation will support our Armed Forces and their families as we continue to do everything humanly possible to put an end to these war crimes and return peace to Ukraine' , she added.
The Ukrainian Embassy in the US reminds of several accounts opened for foreign support Armed Forces of Ukraine.
As European Pravda wrote earlier, Czechia also launched a mechanism for immediate purchase and delivery of military equipment to Ukraine (read news in Ukrainian).
If you notice an error, select the required text and press Ctrl + Enter to report it to the editors.