No Peace, No Guarantees. Istanbul Ukraine-Russia War Talks Details and Results
Wednesday, 30 March 2022 —

, European Pravda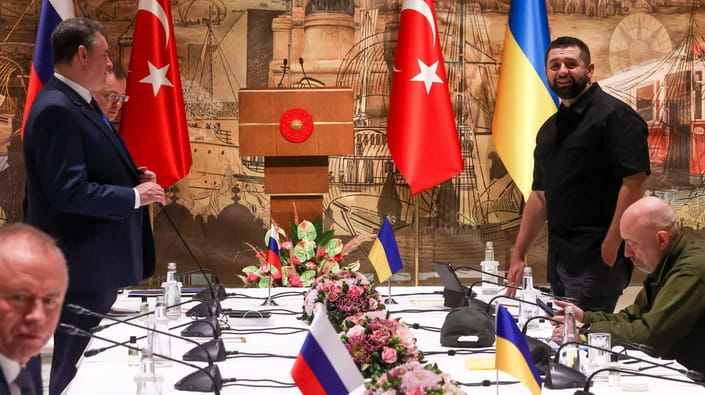 The meeting in Istanbul has so far been the most effective round of Ukraine-Russia negotiations. Also, following the Istanbul round, the Russian Ministry of Defense announced the partial withdrawal of troops from the Kyiv and Chernihiv areas (yet not confirmed).
The Russians also prepared a gift for Zelensky personally: they announced Putin's readiness to meet him if a peace treaty is agreed upon.
Also, at March 29 meeting in Istanbul, Ukraine lodged a peace proposal that Russia is considering now. The document proposed by Ukraine is a concept, a set of ideas. It should become a basis for a multilateral treaty, providing Ukraine with security guarantees if agreed.
Representatives of Ukraine stressed that the document they proposed is a set of "red lines" which Kyiv won't concede.
This article explains in detail the security guarantees mechanisms proposed by Ukraine.

Kyiv's offer
Ukraine's proposals have not been officially published. European Pravda learned comparing several sources, including official statements by Ukrainian and Russian negotiators, the MFA of Ukraine and some fragments of the document leaked to journalists. All sources show a similar Ukraine vision of a peace deal. Key elements of it are outlined below.
(1) The peace treaty applies after the Russian army withdraws from the territory of Ukraine, except Crimea and the occupied Donbas area.
(2) Ukraine expects a group of world powers to offer security guarantees. Kyiv proposed the following guarantors' list: Russia, China, the U.S., Great Britain, France, Turkey, Germany, Canada, Italy, Poland, and Israel. However, not all of them have so far agreed to that. Details of this role are even less clear. Ukraine insists that the guarantors should pledge protection equal to Art. 5 of the NATO Washington Treaty, but it's rather unreal.
(3) These guarantees do not apply to the occupied Crimea and the occupied Donbas area. This would allow guarantor states not to be involved in the war on the first day after the ratification of the treaty.
(4) Instead, Ukraine limits its sovereignty in Security and Defence. Kyiv pledges non-accession to NATO or other military alliances and to change the Constitution for this purpose (now Ukraine). Ukraine appears ready to take much stronger obligations than just non-alignment. In particular, Kyiv proposes a ban on any foreign military contingent in Ukraine. Ukraine can conduct any joint military exercises on its soil and sea only with the consent of the guarantor states (including Russia).
(5) In exchange for giving up NATO, the EU Member States present among the guarantors (including Germany and France) guarantee Ukraine's assistance in joining the European Union.
(6) Ukraine and Russia are starting negotiations on the status of Crimea, which will last for 15 years. At the same time, the negotiators emphasize that the issues of the Autonomous Republic of Crimea and Sevastopol will be considered separately (probably assuming a different agreement with Russia on them). Instead, Ukraine promises not to return Crimea by military means, but there is no such promise for Donbas.
(7) All this will work only if such an agreement is approved by referendum, ratified by Verkhovna Rada and the guarantor states. The process will begin only after the withdrawal of troops, as referred to in paragraph 1, but may fail at each stage of ratification.
Explaining the proposal
First of all, let's be honest that a full and unconditional surrender of Russia, with the victory parade on Red Square is no way realistic, no matter how much do we want it. The Armed Forces of Ukraine will not be able to occupy a huge nuclear state.
Second option is to sign either a peace agreement or a major ceasefire agreement without the complete defeat of any party.
There is also a third option - a major ceasefire without any agreement. This can happen, for instance, when the attacker has got a military defeat and is exhausted to launch a new campaign, the defending state does not dare to cross the border, and they aren't ready to agree on anything. But given the anti-Ukrainian mood in Russia, this option seems rather a pause in hostilities.
The current government has prioritized agreeing on a "permanent" peace agreement that could give a longer respite. But the key is to make sure that peace conditions are acceptable to Ukrainian society. Otherwise, there will be those (especially the military) who will consider the agreement a capitulation.
Returning to the Istanbul proposals, it seems that red lines are largely not crossed at the moment. Some positions, such as the negotiations on Crimea, are generally revolutionary - so far, Russia has refused to negotiate over the peninsula.
This is not a final peace deal. Even if everything that Kyiv says (security guarantees, fast movement to the EU, etc.) is secured, that is not enough to satisfy Ukraine. It's crucial to agree with the West on maintaining sanctions against Russia and on reparations to Ukraine at the expense of frozen Russian assets. In this case, the deal has a good chance of being supported by broad Ukrainian society, i.e., getting approval at a referendum.
Abandoning NATO membership under such conditions is unlikely to be an obstacle, especially considering the information campaign to discredit the Alliance, which has been launched by the Ukrainian authorities since the beginning of March, as soon as talks with Russia began.
Even many pro-NATO activists seem ready for that if alternative security guarantees can save thousands of lives now and guarantee Ukraine's security if Kyiv is offered to compensate for the NATO ban with Germany and France's promises of the EU membership.
After all, moving toward NATO is not a goal in itself but a tool.
The problem is that Ukraine can't achieve these goals in practice.
First, the Kremlin is unlikely to agree to some points of the peace treaty at this stage of the war. "Negotiations on Crimea" is one of them.
Secondly, some points of the document are the responsibility of the Western states, and they are not ready for that strong security guarantees expected by Kyiv. Contrary to Ukraine's expectation that the deal will be similar to NATO Article 5, it will rather look like Budapest Memorandum.
This is the key. It means that giving up NATO voluntarily (at a time when this perspective has become a reality) poses a security challenge for us, and Ukraine must reap the benefits that outweigh the risks. It could be "quick accession to the EU", but this provision in the treaty will remain largely declarative. Even Germany has no right to make such a promise to Ukraine.
And third. Even if Zelensky and Putin agree on this treaty, there is still a need to convince Ukrainians, who are not happy with the idea of concessions to the aggressor. And then - ratification in the parliaments of Ukraine and the guarantor states. This makes the procedure too complicated and reduces the chances that the treaty will ever work.
Below, we explain this in detail.
Effect on Ukraine's combat capability
Zelensky's administration representatives acknowledge that the goal of the peace treaty is to reduce the number of victims, prevent "new Mariupols". That means stabilizing the front line as soon as possible, ceasing further killing of Ukrainians by the Russian army, and then agreeing on conditions by which Russia will agree to liberate our land.
Thousands of lives and the economy's collapse are at stake, say those backing the peace treaty, as no one knows how long the war will last.
Opponents have their counter-arguments. One of them is that Ukraine not only needs to regain its lands and rebuild destroyed cities: not ness important is to be ready for the new invasion or to have deterrence that would make this new invasion impossible. Given the nationwide hatred of Ukraine in Russia, they will not miss the opportunity to attack it again if they see Ukraine's weakness.
That is why Ukraine needs truly efficient security guarantees and/or a strong army.
Instead, current Kyiv's proposal creates the illusion of guarantees and damages defence capabilities.
We emphasize that this does not make the peace treaty unacceptable in advance. Much depends on the details. But we must be aware of the problems and not turn a blind eye to them during negotiations.
Let's start with the issue of combat capability.
Ukrainian is that strong and able to fight for more than a month because of its courage and desire to defend its own land (this was in place in 2014, too, but the difference is huge). It's not only because the Armed Forces are now much better armed. Ukrainian army has combat experience, but Russians have it too; they fight extensively in different places of the world, not only in Donbas.
However, on the battlefield, it turned out that the Russians were losing in military skill, command, strategy, ability to provide logistics, and so on compared to the Ukrainian army. This is no surprise given the reform of Ukrainian military held within the last eight years in cooperation with NATO allies. Aslo Allied officers were involved in extensive military training in Ukraine. Tens of thousands of Ukrainian militaries went through the training at the Yavoriv training ground alone (which became, in fact, a joint training facility of Ukraine and NATO).
Now, if the Ukrainian peace deal is agreed upon, this will be stopped. The proposal, to which Kyiv has agreed, envisages a ban on the deployment of foreign contingents in Ukraine.
Raising the experience of our military in joint exercises with NATO is also blocked. Any joint exercises in Ukraine are only allowed with the consent of the Russia, i.e. practically never.
And, finally, about weapons. Some Western countries are reluctant to sell modern state-of-art equipment to countries with which they do not have sufficient political and military contacts. For example, NLAW RPGs are exported from Britain to only seven countries (Ukraine is one of them). The U.S. sells the latest F-35 fighters in only 14 states; even Turkey has got a refusal because of Turkey's military-technical cooperation with Russia.
This process is not fast because the Alliance still has an understanding of what the Armed Forces of Ukraine are. But if we, in addition to non-alignment, approve a strict separation from NATO (which is not the case, for example, in Finland and Sweden), problems will arise in time.
Finally, one of Russia's demands is "demilitarization". If, in addition to the problems described above, Kremlin demands that Ukraine gets rid of some weapons (such as offensive weaponry), this would turn the peace agreement into a surrender treaty. In this case, Ukraine becomes defenceless against the next (in this case, almost inevitable) attack of the Russian Federation.
That is why Ukrainian negotiators must stand in the way of preventing this from happening.
And we should not expect that the guarantors will fight for us.
Fanciful guarantees
In recent weeks, supporters of Ukraine's renunciation of NATO membership have promoted the idea of replacing accession to the Alliance with another military alliance that we will create ourselves.
For example, in the format Ukraine - Britain - Poland.
This idea raised doubts from the beginning, but now it has been destroyed.
The proposals brought by the Ukrainian delegation to Istanbul include a provision that "Ukraine shall not join any military alliance." Instead, all hopes for collective defence rely on the security guarantees that partner countries give us unilaterally - they "guarantee" our security in case of the military attack on Ukraine, while we aren't obliged to do anything in return (which in itself reduces their value to some of the guarantor states). These guarantees must be part of the peace treaty, signed by these guarantor states, Ukraine and Russia.
Let's look closely at what can be expected from the guarantors if Ukraine is attacked by Russia again, with such a treaty in force.
The concept note discussed in Istanbul states that in the event of an attack on Ukraine, the guarantors take "individual or joint action as necessary", including direct combat action in Ukraine. However, this is just a proposal from Ukraine. According to the EuroPravda, official Kyiv was aware from the very beginning that this was hardly possible to achieve.
Now we already see the response of the same guarantors to Ukraine's requests to close the sky. NATO members oppose this because they do not want to engage in war against nuclear power, Russia, defending a country that is not part of their military-political bloc. There is no reason to believe that their position will change in the agreement on unilateral voluntary guarantees.
This is confirmed by the official response of the U.K.to Kyiv: there will be no NATO-like guarantees. If Ukraine wants strong guarantees of common defence, it must become a member of the Alliance, finance the organization, bear political responsibility, contribute to joint exercises and joint defence. In the end, it should meet the democratic criteria!
If Ukraine voluntarily refuses to join NATO, it is its choice, and it should bear the consequences.
Worth noting that the United States (one more possible guarantor) has experience providing security guarantees to non-NATO nations. The Philippines, South Korea, Japan, etc. have bilateral security agreements with the U.S. These agreements include identical safeguards:
"Each Party recognizes that an armed attack against either Party would be dangerous to its own peace and safety and declares that it would act to meet the common danger in accordance with its constitutional provisions."
That is - no promises.
In practice, this means that the security guarantees promoted by the authorities under the peace treaty with Russia, we can count on the supply of weapons, but not the participation of the military. Almost certainly, it means no closing the sky if the attacker is Russia (because this requires the participation of the military of guarantor states too).
It will be impossible to provide aircrafts, even if there is political readiness to do so. The reason is NATO countries are increasingly abandoning Soviet military jets in favour of the newest NATO-made. And it is almost unrealistic to train Ukrainian pilots to use new equipment, to have flight lessons with them, etc. during the period of hostilities.
That means Ukraine, if it decides to abandon NATO, can remain virtually "preserved" on old equipment.
All this is a reality that must be acknowledged.
Again: it cannot be ruled out that other positions of the peace treaty will be attractive enough to prevail against security risks. For example, if there is an agreement on our quick accession to the EU, the desire of EU members to stand up for us will increase sharply. But there is no such promise on their side.
In Ukraine, some people worry whether it is OK that Russia, the aggressor state, will receive a guarantor status. The answer is: yes, it may be acceptable.
In the event of an attack, the guarantors take individual decisions on security guarantees for Ukraine. Therefore, Russia's actions or its unwillingness to "consult" should not stop other club members from helping Ukraine (such as weapons supplies).
It also doesn't matter whether Russia (or another state) that attacked Ukraine recognizes the war or hides behind a "special operation" again.
Also, signing such a treaty does not lift Russia's status as an aggressor. Ukraine does not lose the right to sue Russia in international courts.
No peace treaty justifies crimes, prevents the establishment of a tribunal for Putin.
There are two reasons why Russia is on the list of guarantors. First, Moscow demanded a halt to the joint exercises of the Ukrainian Armed Forces and NATO in Ukraine, so it was dealt with by proposing a consent procedure by the guarantors. Secondly, Kyiv believes that all permanent members of the UN Security Council should be guarantors. That is why China is also on Ukraine's wish list (by the way, China is not happy about it).
However, in author's opinion, such pursuit of China has little meaning in terms of guarantees. No treaty will force members of the UN Security Council to vote one way or another or refuse to veto a specific proposal. Using a treaty of this magnitude simply to involve China in contact and communication with Kyiv seems a very controversial decision.
Crimea and Donbas
Ukraine's proposal on Crimea deserves particular attention. If Russia agreed, this would mean a real breakthrough. So far, Kremlin refused to talk about Crimea as a matter of principle. However, it is almost certain that Moscow will reject this point.
If so, the question arises: what will Kyiv do then?
Ukraine has publicly marked it as a "red line". Will Ukraine agree that Russia destroys this line, or Kyiv will close the negotiations? Both options seem to be losing to Ukraine.
The proposal also includes Ukraine's pledge not to return Crimea by use of force.
This seems reasonable. By this point, Zelensky tried to "sell" to Russia a principle that every Ukrainian President would adhere to anyway. Whether we like it or not, Crimea, unlike Donbas, can only be returned through diplomacy. Obviously, this won't be possible while Putin remains in charge, and perhaps it will only happen after the collapse of Russia.
The situation with Donbas is more complicated.
We propose to remove ORDLO (Ukrailian acronym, means "certain areas of Donetsk and Luhansk Oblasts") occupied by Russia for the last more than 7 years, from the scope of security guarantees. But the document handed over to the Russians mentions that Russia and Ukraine may see the ORDLO's borders differently. How to find a common denominator here is unclear.
But the main problem is that Kyiv wants Russia to withdraw troops out to the border as of February 23, 2022.
Russia will definitely not agree to this now.
The only way to make this option work is if Zelensky agrees to fulfil Russian demands that will make a deal acceptable. For example - the loss of the entire Donetsk and Luhansk regions. Or through recognition of the "legality" of the occupation and annexation of Crimea. Or by letting Russia control the North Crimean channel.
Fulfilment of any of these conditions puts the peace agreement in the category of a "surrender treaty", and Volodymyr Zelensky is aware of this. That's why he is outspoken about the inadmissibility of surrendering the territory.
All-in-all, it seems that the only option when Russia would largely agree to the deal is if the Ukrainian army drives the occupiers to the border. But if that happens - whether Ukraine should make these concessions, sacrifice NATO, etc.? The question is rhetorical. Of course, not. In this case, such a treaty will be perceived as a surrender of interests, and it is unlikely to be supported in a referendum.
Russia's payback time
It is necessary to focus more on the referendum.
Holding a referendum is part of Ukrainian proposals. But the vote can take place in a de-occupied area. The referendum also requires a permanent ceasefire, a stable contact line, etc., so the martial law and a state of emergency can be lifted.
This in itself creates a contradiction. It turns out that such a peace treaty can be implemented and voted for only after de-occupation; however, after de-occupation, such a treaty "will not fly"!
Therefore, the only option to reach a peace treaty is to substantially rewrite the proposal received from Kyiv, and both parties will definitely try to do it.
But two blocks will hardly appear in this treaty. These are sanctions and reparations.
Sanctions cannot be decided by the Russian Federation and fall outside the scope of this treaty. Meanwhile, this topic is crucial, and it needs to be agreed upon with the EU and the US.
Ukraine has to ensure that the West will maintain the most painful sanctions against Russia. Al least until the Russian Federation leaves Donbas, Kremlin starts meaningful negotiations on its withdrawal from Crimea and agrees to reimburse at least part of Ukraine's losses.
Instead, if sanctions are lifted now, it will encourage Russia to launch a new attack. Also, it will block the issue of reparations, i.e. the aggressor's compensation to Ukraine for the destroyed infrastructure.
Unfortunately, it is unrealistic to include reparations in the peace treaty with the Russian Federation. Moscow will not go for it. But we have a trump card.
Currently, over $500 billion of Russian money, including the reserves of the Central Bank of the Russian Federation, has been blocked and arrested by sanctions. It is logical to spend this money on the reconstruction of Ukraine. And, of course, this will be done without the consent of the Russian Federation. Therefore, the fact that the draft treaty with Russia does not include reparations is not a betrayal.
And finally. Whatever Kyiv and Moscow agree on, the last word on peace terms is for the Ukrainian army and society. Neither the first nor the second will accept a treaty similar to surrender. Negotiators understand this, too.
Therefore, Ukrainian society must not remain silent if serious problems arise, but at the same time abstain from "creating betrayal" without reason.
Sergiy Sydorenko,
European Pravda editor

If you notice an error, select the required text and press Ctrl + Enter to report it to the editors.