Appeal of Ukrainian Civil Society Organizations to NATO Leaders ahead of Vilnius Summit
Monday, 26 June 2023 — more than 70 Ukrainian think tanks, NGOs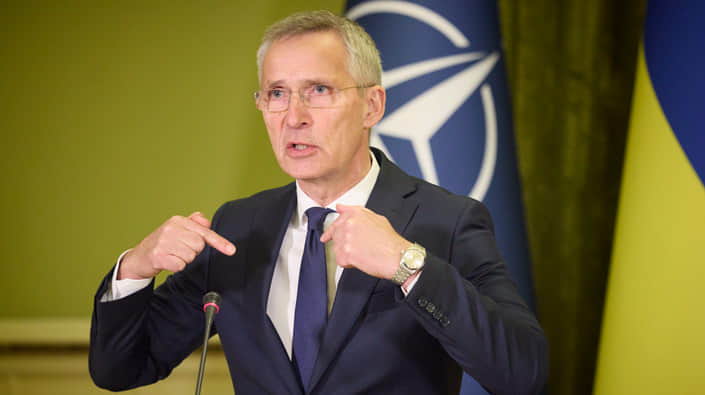 The NATO Summit in Vilnius is approaching. The Alliance will have the opportunity to make a historic decision: to commit to inviting Ukraine to join NATO as soon as possible. We, the representatives of civil society in Ukraine, firmly believe that such a commitment will be the most effective instrument for ending Russia's war against Ukraine, preventing new aggression, maintaining Ukraine's democratic transformations, and reconstructing Ukraine through partnerships with private enterprise in NATO member states.
Invitation does not imply immediate accession. Even in the case of Finland's record-fast NATO accession, the process took almost a year. Therefore, giving Ukraine an invitation at the Vilnius Summit does not mean immediate obligations to defend it under Article 5 of the Washington Treaty.
Contrary to popular belief, NATO does not have restrictions on inviting new countries to join, even if they are at war. Paragraph 6 of the 1995 Study on NATO Enlargement (regarding the absence of territorial disputes) does not apply to Ukraine. It refers to the requirement for a candidate country to resolve all disputes with other countries "by peaceful means in accordance with the principles of the OSCE." However, Ukraine has no claims to foreign lands; in accordance with international law norms, it liberates its own territories occupied by Russia. Moreover, since 2014, Ukraine has demonstrated readiness for peaceful negotiations—which the aggressor rejected. If Paragraph 6 were to become a justification for not inviting Ukraine, this would indicate that NATO grants Russia a veto over the Alliance's enlargement.
Instead, the prospect of Ukraine's invitation to the Alliance will accelerate the end of the war without invoking Article 5. During the current crucial counteroffensive, an invitation to join NATO would strengthen the morale of Ukrainians. Ukraine's eventual accession to NATO would mark a moment of irreversibility because the possibility of its return to the Russian Empire would disappear — a possibility which Putin and many representatives of the Russian elite dream of restoring. On the contrary, "strategic ambiguity" regarding Ukraine's future in NATO will only serve as motivation for Russia to continue its invasion and to attack Ukraine again after the war ends.
There is no reason to fear escalation because Putin himself is afraid of it, knowing that the Russian army has no chance in a military confrontation with NATO. There is also no need to assist Putin in "saving face" — Putin's total control over the media space means that the Kremlin will find its own way to package any narrative he wants as demonstrated in recent statement of Putin's spokesperson that despite massive supply of Western weapons to Ukraine and modernization of its Armed Forces, Russia's "objective to demilitarize Ukraine… has largely been achieved".
The invitation and further accession of Ukraine will strengthen Euro-Atlantic security. Over the course of nearly 1.5 years of full-scale war, the Armed Forces of Ukraine have demonstrated their ability to become a pillar of NATO's eastern flank and significantly deter Russia, defined by the NATO Strategic Concept as the "most significant and direct threat." During the full-scale invasion, the Ukrainian Armed Forces have achieved a high level of military interoperability and coordination with Alliance members. Reforms are already underway in various areas to fight corruption, strengthen the rule of law, and the invitation of Ukraine to NATO will give further boost to the security and defence sector reforms and improve areas of democratic civilian control within the Armed Forces.
Societies of NATO member states support Ukraine's accession to NATO. A recent public opinion poll indicates that among those participants who expressed their opinion, 70% of Americans, 56% of French, 53% of Italians, 55% of the Dutch, and 50% of Germans support extending a NATO political invitation for Ukraine already at Vilnius Summit. Meanwhile, Ukraine exhibits record-high support of 82% for NATO membership within the country. This idea serves as a unifying force for Ukraine, dispelling the myth of a "divided Ukraine" and "pro-Russian regions." Notably, 80% of residents in the South and 72% in the East of Ukraine express support for NATO membership. As an alliance of democracies, NATO cannot disregard the will of its citizens and the citizens of the applicant country.
Ukraine's invitation to join NATO will be an important signal for investors who are considering participating in Ukraine's post-war reconstruction but are concerned about security risks. Ukraine's future membership in NATO will also signal to millions of Ukrainians that it is safe to return to Ukraine, providing a compelling reason for repatriation.
We, therefore, urge NATO member states to make a political commitment to swiftly invite Ukraine to join the Alliance at the summit in Vilnius. Ukrainian civil society will be your partner on the path to membership.
Signatories of the Appeal:
Center for Civil Liberties, the Nobel Peace Prize Laureate 2022
New Europe Center
European Pravda
Anti Corruption Action Centre
National Interests Advocacy Network 'ANTS'
International Centre for Ukrainian Victory
Reanimation Package of Reforms Coalition
Centre for Defence Strategies
Razumkov Centre
Foreign Policy Council "Ukrainian Prism"
DEJURE Foundation
Transparency International Ukraine
Ilko Kucheriv Democratic Initiatives Foundation
International Renaissance Foundation
Ukraine Crisis Media Center
Civil Network OPORA
Human Rights Center ZMINA
Institute for Economic Research and Political Consulting
NGO "SUVIATO" (The Union of Participants, Veterans, Disabled People of Anti-terrorist operations and Army Actions)
Ukrainian Centre for Nonviolent Communication and Reconciliation "Dignity Space"
New Geopolitics Research Network
Ukrainian Сenter for Independent Political Research
CHESNO Movement
Open Dialogue Foundation
Center for Research on the Liberation Movement
The Centre for Global Studies "Strategy XXI"
Charitable Organization "The Black Sea Institute of Strategic Studies"
Regional Center for Human Rights
Centre for Economic Strategy
Agency for Legislative Initiatives
Ukrainian Foundation for Security Studies
NGO Independent Defense Anticorruption Commission
Public organization "All-Ukrainian Forum for Democracy" (DEMFORUM)
Transatlantic Dialogue Center
Ukrainian Association for American Studies
Resource & Analysis Center "Society and Environment"
National Assembly of People with Disabilities of Ukraine
Centre of Policy and Legal Reforms
Strategic and Security Studies Group
Civil Organization "Centre for International Security"
Ukrainian Foreign Policy Association
Think tank StateWatch (Kyiv-based)
Cedos think tank
Internews Ukraine
Center of Social Initiatives "Prospect"
Ukrainian women lawyers association JurFem
NGO "Veles+"
Partnership for Every Child
Ukrainian Foundation for Public Health
NGO League of Social Workers of Ukraine
Open Policy Foundation
NGO "Parents for Vaccination"
Association of Cinematographers of Ukraine
Regional Press Development Institute
Centre for Social and Gender Research "New Life"
NGO Euroatlantic course
Kharkiv Anticorruption Center
Institute for Central European Strategy
Ukrainian Centre for European Policy
DiXi Group
NGO "Promotion of Intercultural Cooperation" (Ukraine Analytica)
School for Policy Analysis NaUKMA
Anti-Corruption Research and Education Centre
Data Journalism Agency (TEXTY)
Bureau of Gender Strategy and Budgeting
Centre of United Actions
Civil Organization "Institute of Applied Humanitarian Research"(Kharkiv)
VoxUkraine
NGO "New Solutions Center"
NGO "Detector Media"
Analytical Center of the Ukrainian Catholic University
If you notice an error, select the required text and press Ctrl + Enter to report it to the editors.