Moldovan President Arrives in Ukraine and Visits Heavenly Hundred Heroes Memorial
Tuesday, 21 November 2023
Moldovan President Maia Sandu arrived in Kyiv on a surprise visit on Tuesday, 21 November and announced that she would be meeting with European Council President Charles Michel.
According to the press service of the Ukrainian President's Office, on Ukraine's Dignity and Freedom Day, Sandu, together with the Zelenskyys, paid tribute to the memory of activists killed during the 2014 Revolution of Dignity.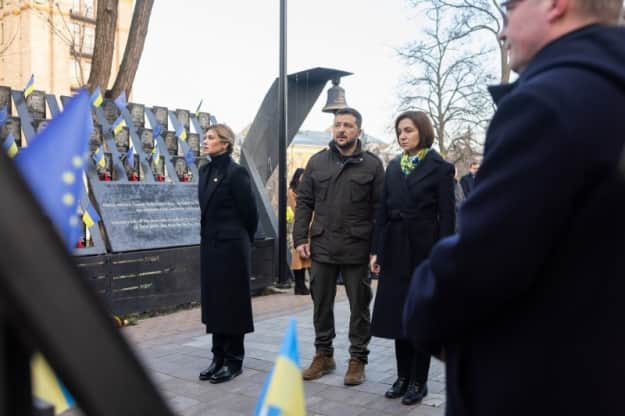 Volodymyr and Olena Zelenskyy, together with Maia Sandu, lit lamps at the cross on the Avenue of the Heavenly Hundred Heroes in Kyiv.
They also paid tribute to the memory of the fallen activists near their portraits. A bell was rung in honour of the fallen participants of the Revolution of Dignity.
Sandu tweeted that she had arrived in Kyiv for meetings with Ukrainian President Volodymyr Zelenskyy and European Council President Charles Michel. Michel's visit has not yet been officially announced.
"On our agenda: discussing next steps in EU accession of Moldova and Ukraine, enhancing regional security, and EU's continued support of reforms and development in our countries," Sandu noted.
Today marks 10 years since the start of Euromaidan, a defining moment for Ukraine's European path.

Together with @ZelenskyyUa and @ZelenskaUA, I honoured all those who stood for freedom and those who made the ultimate sacrifice.

Their legacy lives on. pic.twitter.com/2cti4oFGR2

— Maia Sandu (@sandumaiamd) November 21, 2023
Ukraine celebrates Dignity and Freedom Day on 21 November.
In his address on the Day of Dignity and Freedom, Ukrainian President Volodymyr Zelenskyy stated that Ukraine's efforts on the path to the EU would certainly end in full membership and that Ukraine's star would shine on the EU flag.
European Commission President Ursula von der Leyen said the future for which the protesters had stood at the Maidan had finally begun.
If you notice an error, select the required text and press Ctrl + Enter to report it to the editors.