Russia Hits Macron, Shifting Political Dynamics Ahead of Elections in France
Friday, 8 April 2022 — Théo Bourgery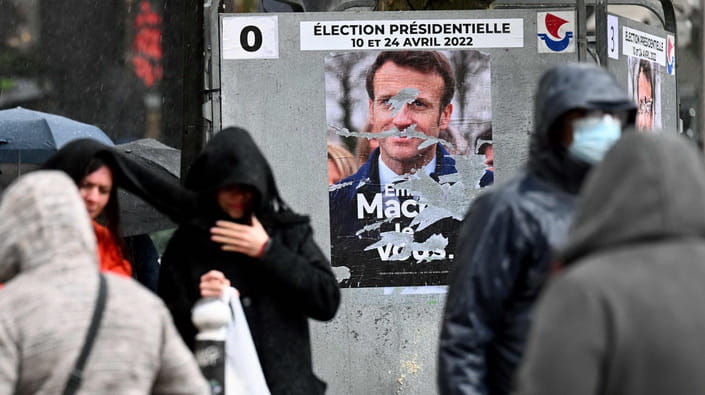 48.7 million French voters are officially registered to cast their ballot in the first round of Presidential elections on Sunday10 April, amid a growing realisation of the brutality of the war in Ukraine.
Images from Bucha and neighbouring towns have flooded French media, causing all presidential candidates to take a stance on what they would do to bring an end to the war and sanction Russia.
Meanwhile, Emmanuel Macron's political ratings, which grew up strongly in the first days after the invasion, are not that high on the eve of the election day.
Further Sanctions
French president and candidate for his re-election Emmanuel Macron announced on Monday, only 48 hours after videos from Bucha made their way on the internet, that a new round of sanctions against Russia was needed. He also claimed that "there are very clear clues pointing to war crimes and insisted that it is largely established that the Russian army is responsible" for the Bucha killings. An embargo on oil and coal, he said, should be considered as part of the fifth EU sanctions package – though he said nothing of gas imports.
As of March 2022, France imports 17% of all its gas supplies from Russia, 7% of its oil and 30.2% of its coal.
Macron's announcements are significant.
He had originally felt rather hesitant to speak of a full embargo explaining that this could cause further escalations. Instead had shown support for continuous dialogue with Putin, hoping for a diplomatic end to the conflict – a stance Polish Prime Minister Mateusz Morawiecki openly criticised on Monday, saying "nobody negotiated with Hitler". The reality of the violence in Ukraine seems to have changed the name of the game, however – and Macron is set to support EU endeavours to "collect the evidence" of war crimes on the ground, "bring the perpetrators to justice" and toughen "sanctions to maintain maximum pressure on the Kremlin" in the words of European Council President Charles Michel.
Other Presidential candidates have followed suit.
Green party's Yannick Jadot called on Thursday for a full embargo on Russian gas and oil, criticising Macron's seemingly-warm relationship with Russian President "war criminal" Vladimir Putin. Socialist Party's Anne Hidalgo also called for a gas embargo and an uptake in the distribution of lethal weapons to the Ukrainian army. Far-left La France insoumise leader and candidate Jean-Luc Mélenchon, who had until recently shown pro-Kremlin sentiments, accused "Russian leaders" for "barbarous crimes […] We shall not forget, we shall not forgive".
Far-right candidates, on the other hand, have offered more cautious condemnations.
Rassemblement National's Marine Le Pen, who had maintained (and publicly showcased) close ties with the Kremlin, condemned the Bucha massacres though she fell short of pointing the finger at Russian officials – arguing she had not had access to any intelligence confirming that Putin had given orders for the massacres to take place. She also refused to rule Putin out as a future French ally "on certain issues" once the war ended. Her close far-right Reconquête! contender Eric Zemmour called for the implementation of an international investigation, though casted doubts on the veracity of the videos.
Shifting Dynamics
As the election dates near, political dynamics are shifting, and the gap between Macron and Le Pen, both expected to make it to the second round, is waning significantly. While Macron seemed almost untouchable at 30% of voting intentions in mid-March, support has now fallen to 27%, according to Politico's Poll of Polls. His refusal to take part in campaign debates has been interpreted by some as anti-democratic behaviour and a lack of respect for voters.
His call for a "united" response to the war, which had initially created a strong rally around the flag effect, is no longer enough.
Macron has also had to face accusations of fraud and public mismanagement following the revelations by a parliamentary report that a series of large consultancies had been paid up to €2.4bn since 2018 to advise on the government's policy-making priorities – including vaccine roll-out and digital transformation. It has further appeared that one of those consultancies, American-based McKinsey, used tax optimisation schemes to avoid paying any taxes in France the past ten years – all the while working pro-bono for the government on some high-profile policies and events.
The French financial prosecutor announced on Wednesday that it would start a formal investigation – further dogging Macron's campaign.
Marine Le Pen, on the other hand, has seen voting intentions in her favour surge from 17% to 22% since the start of the war. In spite of her previous pro-Putin stances, she dedicated the last stretch of her campaign to purchasing power in the midst of rising energy prices – successfully courting rural voters and blue-collar workers. Second-round polls have never been so close, with a narrow 53%-47% Macron win – a long way away from his 2017's 66% win against Le Pen.
Far-left Mélenchon, who stands firm in his decision to leave NATO were he to be elected and has called on an energy price cap, has seen a significant increase in voting intentions too – being hailed as the only credible left-wing voting option to counter Le Pen. His 16% poll results, however, still fall rather short of putting Macron and Le Pen at any real risk.
Decisive Two Weeks
Polls have shown their fallibility in previous elections and France has known its fair share of last-minute political upsets, which can make or break an election's outcome. However, it now seems almost guaranteed that Macron and Le Pen will meet in the second round. Yet, questions and possible surprises remain.
First, it is unknown what the turnout will be like in the first round. Currently, only 66% of voters are confident that they will go to the polls this Sunday. Such a low turnout in the face of the international crisis and France's presidency of the Council of the EU could undermine the credibility of the winner of elections in the domestic and international arena, whoever he may be. And most importantly - a low turnout could mean a lower number of votes for Macron, as his would-be sympathisers choose not to show in polling stations - closing the gap even further with Le Pen ahead of the second round on 24 April.
The current president is already nervous. Suffice it to mention his reaction to the already mentioned criticism of Polish Prime Minister Mateusz Morawiecki. Macron called the criticism "inappropriate" and "scandalous," accusing Moravetsky of wanting to interfere in Le Pen's election.
So, despite the probable victory in the first round, it is no smooth ride for Macron. To win a second term, the French president must regain the upper hand in the coming two weeks, otherwise, the gap between him and Le Pen may continue to shrink.
Le Pen winning the elections would be an alarming signal for Ukraine. Although French politicians can no longer afford to show sympathy for Putin, there is every reason to believe that if Marine Le Pen (or, for that matter, Jean-Luc Melenchon) is elected, political readiness to seek additional sanctions against the Russian regime may begin to wane and European unity may struggle through a period of uncertainty.

Author: Théo Bourgery
editor of What's Up EU
If you notice an error, select the required text and press Ctrl + Enter to report it to the editors.