Five Reasons Why Hungary Supported Ukraine's EU Candidacy
Thursday, 23 June 2022 — For European Pravda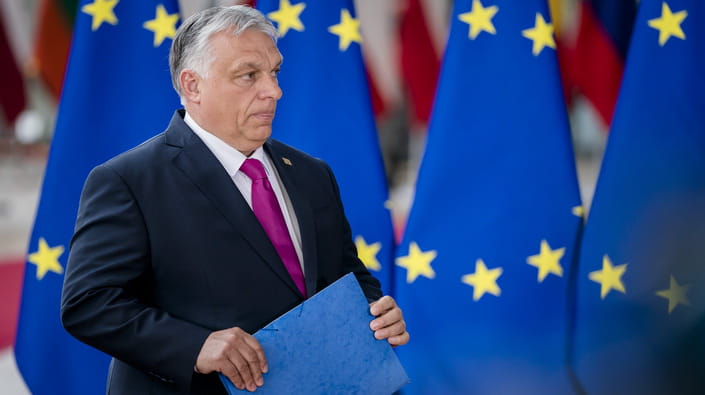 The Hungarian government publicly announced that Viktor Orbán would vote in favor of granting Ukraine EU candidate status right before the EU summit.
Many people got very surprised by this statement:
Where is a "trap" here?
It would seem that right now is a perfect time for Budapest to declare all the claims against Ukraine accumulated in recent years and try to "bargain" for something.
For example, amends to Ukrainian education and language laws, dual citizenship, or at least the lifting of entry bans for certain Hungarian officials who became non-grata in 2020 for interfering in the Ukrainian elections.
So why didn't it happen? And what prompted Budapest to give the "green light" to Ukraine?
Victor Orbán follows his own logic, and that's what it's based on.
First, Hungary supports Ukraine's EU accession, as it will enable it to solve its existential problem. Hungary then can reunite its nation, a third of which found itself outside its native Hungary after the First World War.
Today, this unification vision is based on the following political doctrine. If we cannot reunite the Hungarian nation within one state, we must strive to unite it within alliances such as the EU and NATO so that there are no borders between Hungarians.
That is why Hungary supported the accession not only of Ukraine but also of Serbia and was almost the primary advocate of Croatia at the time.
Manifestations of this national doctrine are the passportization of Hungarians abroad, support programs, and wild investments in Hungarian communities in neighboring countries, including Ukraine. So, as we can see, this "excessive" interest and attention of Budapest to the Hungarian community in Ukraine played in Kyiv's favor this time.
The second reason is the candidacy conditions for Ukraine. Hungary got what it wanted, namely the 7th requirement, which demands changes in the legislation on national minorities.
The question remains how Hungary plans and can use this requirement. Kyiv will have to work with all this. It needs to have solid arguments both for the Venice Commission and for each of the capitals.
Another reason: Hungary does not want to have a common border with Russia.
Given the rapprochement between Budapest and Moscow over the last 12 years of Viktor Orban's rule, this thesis may sound strange and suspicious. But not so long ago, in 2016, at a large meeting with Hungarian diplomats, the Hungarian Prime Minister personally emphasized it as a strategic goal and interest of Hungary.
We should emphasize it is not Orban's know-how. This is the consolidated vision of the majority of Hungarian elites.
Even today's Orban's pro-Russian Hungary wants to have "something in between" east of its borders, not Russia.
Like Slovakia or Romania, Hungary does not want to be the outer border of the European Union and bear all this burden of security, buffer zone, and provincialism.
In addition, Ukraine's rapprochement with the EU will let Budapest, like Bratislava, overcome the disparity in the countries' development and resolve the issue of depression in eastern Hungary (the same applies to Slovakia). Each of these countries remembers and still feels the economic miracle effect of eastern Austria on western Hungary and Slovakia.
Another critical point is that after Germany, France, and Italy said "yes" to Ukraine, Hungary simply could not resist.
This was not the case with the sixth package of sanctions when Budapest voiced more than just its position.
Ultimately, the reasons outlined above outweighed Victor Orban's usual desire for conflict and political debate.
And finally, fifth:
For Orbán, EU enlargement is his worldview of the EU development as a union of nations, not federal states.
The Hungarian Prime Minister favors the European Union developing horizontally, not vertically, i.e., by enlarging and adding new countries, and not by strengthening the vertical structure of the EU and changing decision-making mechanisms.
*****
This is, in fact, the logic of today's Hungary in support of Ukraine's EU candidacy.
Viktor Orban did not suddenly become pro-Ukrainian. Moreover, he did not stop being pro-Russian.
Today, as always, he acts solely to benefit his interests that simply have coincided with Ukrainian.
Written by Dmytro Tuzhansky
director of Institute for Central European Strategy
If you notice an error, select the required text and press Ctrl + Enter to report it to the editors.