EU Failed to Manage Temporary Protection for Ukrainians: It Turned into Chaos
Tuesday, 19 July 2022 —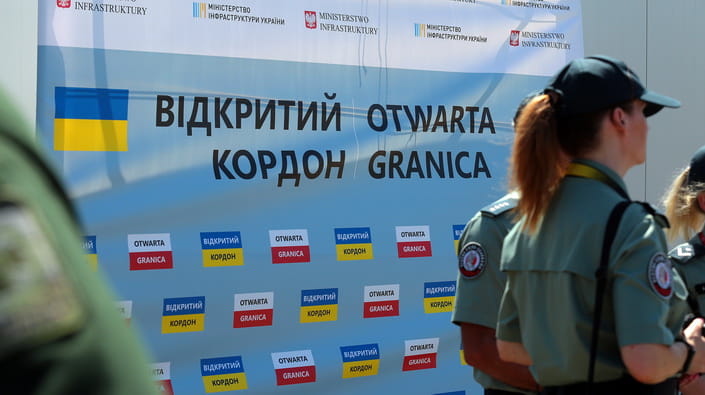 In late February, right when Russia invaded Ukraine, the European Union made an unprecedented decision: it opened its borders to Ukrainians fleeing the war, Russian shelling, missiles, and tanks. One week later, surprisingly fast for Eurobureaucracy, the EU unanimously adopted an implementing decision introducing temporary protection to persons fleeing Ukraine due to the war.
Europe first time ever used the mechanism called "temporary protection." They didn't expect it to work perfectly, and the European Union would have to "fix" it. But they didn't. The EU that acted so fast in February has been mired in bureaucracy again.
We can undoubtedly say: Brussels has failed to manage "temporary protection" for Ukrainians.
The EU countries stay uncoordinated. And many Ukrainian refugees have already gotten into trouble because of this, although they did not break any rules.
Rules for Ukrainians who fled the war
With the full-scale Russian invasion, the EU opened its borders to Ukrainians. It allowed them to cross the border without biometric passports or other documents because they could be irretrievably lost in a destroyed house in Borodianka or Mariupol.
Since the old rules had ceased to be effective, the European Commission prepared a 16-page document on the status of Ukrainians who fled the war and came to the EU.
The most important rules are the following:
(1) Ukrainians must be allowed to cross the border in times of war with any documents that mention citizenship.
(2) Ukrainians have the right to move freely within the Schengen area after being admitted into the territory for 90 days within 180 days. They are therefore able to travel to the Member State in which they want to enjoy the rights attached to temporary protection.
(3) This country is obliged to provide a residence permit and a document certifying the status. The procedure must be as simple as possible, reducing the risk of overburdening the asylum system.
(4) Once a Member State has issued a residence permit, the person enjoying temporary protection has the right to travel to the other Member States than the one issuing the residence permit for 90 days within 180 days. They also enjoy the right to travel to Ukraine for a short time without losing their status.
(5) For Ukrainians who do not enjoy temporary protection, the same rules apply for tourists - 90 days in the EU, the next 90 days in Ukraine.
Expectations vs. reality
However, the European Commission rules are just "recommendations." All states promised to implement them, but many of them violated the recommendations of Brussels, which did not pay any attention to these violations.
The legal consequences are very serious:
(1) Most temporary protected Ukrainians are not officially allowed to travel within the EU. They even face a risk of deportation.
(2) Those who briefly return to Ukraine are often not allowed back to the EU.
The most obvious are the examples of Poland.
Warsaw completely violated EU recommendations.
Over 1.2 million Ukrainians received temporary protection in Poland, but not a single document to confirm their status, only a PESEL identification number.
In any other EU state, they are all illegals who have violated migration rules.
Not only Poland is to blame. In other countries, Ukrainians also receive wrong documents or countries delay issuing for several months. And this is how Ukrainians become semi-illegal migrants.
In France, at least in some provinces, they grant residence permits only for a Ukrainian woman, without one for her children. And it turns out the mother lives legally. Her children are illegal in other EU countries!
Deportation threat?
Migration rules say: an illegal migrant must be deported from the EU. There are no exceptions for wartime Ukrainians who became "violators" due to the country's mistakes.
Maria Repko is a Ukrainian expert, deputy executive director of the Center for Economic Strategy, who found shelter in Poland. In June, she was invited to a high-level meeting with the Austrian government. But Maria was warned - she does not enjoy the right to fly. She has stayed in Poland for longer than 90 days. It means she has violated migration rules in Austria.
Her attempts failed to find help at the Austrian consulate. She was warned that she could face deportation to Vienna if someone checked her passport at the airport. "I was told they take off the plane. That's why I didn't dare to fly. I decided not to risk it," she explained.
She couldn't solve this issue. Maria also missed the Recovery of Ukraine Conference in Lugano. Switzerland let her know: a person with Polish "temporary protection" is illegal for them.
"European Pravda" cannot confirm any case of deportation, but many people find it too risky to become violators. Document checks at airports are not an exceptional phenomenon.
One-way trip
Ukrainians who return to Ukraine for a short term, for example, illness or death of loved ones, face even greater problems. It is always easy to enter Ukraine. The problem arises when they return to the EU in a few days.
Ukrainian human rights defender Oleksandra Dvoretska found refuge in Germany, submitted documents in early spring, but is still waiting for the card. The German state machine was not ready to influx women and children from Ukraine. Everyone has to wait for a residence permit for several months. But until the plastic card was ready, the Germans issued Oleksandra a paper document certifying her residence permit.
One day Oleksandra had an urgent need: she left her son in Germany and went to Ukraine. And when she headed back, they did not let her in at the border, saying her German document did not meet the requirements.
"The Hungarian border police said I was a tourist who has used up her 90 days. I was taken off the train going to Budapest. I had to negotiate for one hour to make them compromise. They let me cross the border, but they wrote me a protocol stating that I must leave the EU in two weeks," she said.
There are similar stories of Ukrainian women who received temporary protection in many EU countries.
And there are thousands of them in Poland.
PESEL UKR does not grant rights to cross the border, and the Polish government has not figured out what to do about it.
The Embassy of Ukraine in Poland clarified that Ukrainians who have obtained temporary protection in Poland could leave freely and legally return to Poland if they spend less than a month in Ukraine. And in reality, they face problems even after a few hours spent in Ukraine.
Therefore, a trip to Ukraine turns into a lottery.
It shows how chaotic temporary protection for Ukrainians turned out. Unfortunately, Brussels, which was supposed to be a coordinator, withdrew from it. And it seems that it does not plan to change it.
Official Kyiv, which should insist on streamlining the rules, has other priorities in wartime. Ordinary citizens of Ukraine suffer from this. And the EU makes Ukrainians believe that it's unable to solve the complex issue effectively.

Written by
Sergiy Sydorenko, European Pravda
Kateryna Kulchytska, Europe without Borders
If you notice an error, select the required text and press Ctrl + Enter to report it to the editors.