Not Eternal Orbán: How To Overcome Crisis Between Ukraine and Hungary
Tuesday, 13 December 2022 —

, European Pravda, Budapest-Kyiv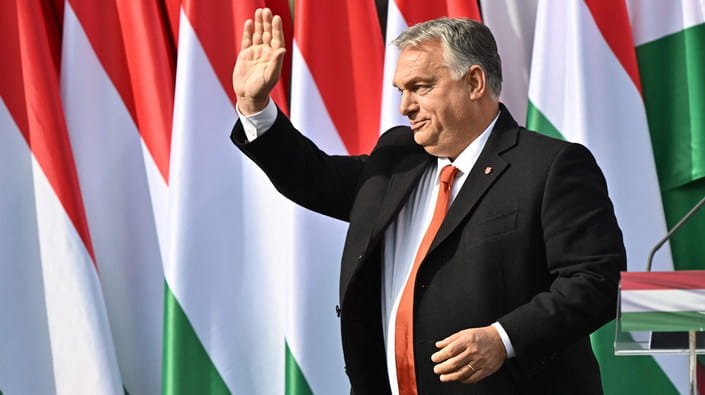 "Travel safely! Take the train!"
This poster is addressed to Ukrainians but written in Russian. It is posted at the railway station in Záhony on the very border with Ukraine.
To some extent, the poster reflects the problems in bilateral relations between Hungary and Ukraine.
Some Hungarian authorities and citizens have still not understood that Ukrainians are not Russians.
Although many are already aware of these mistakes and their consequences, one "off-record" conversation with a representative of Orbán's government impressed the author of these lines.
"Sergiy, the biggest problem is that this is happening between our countries right now when you are fighting for independence. This war will be a major event in your history. There will be the ones on your side which helped a lot. And Hungary will be on the other side," he shared regretfully.
It is true.
Already, many Ukrainians see Hungary as an enemy. The statements of Prime Minister Viktor Orbán and especially Foreign Minister Péter Szijjártó, seem to be deliberately aimed at aggravating and inciting hatred between the states. This is Orbán's trademark. He is used to building his political capital by "searching for enemies," mobilising society around them.
Paradoxically, even the Hungarian government, besides the Prime Minister's small team, sees Ukraine fundamentally differently. The opposition unites around unequivocal support for Ukraine.
In fact, Orbán needs "hostile Ukraine" as a tool to fight his main "enemy": the economic crisis. Hungary is on the brink of financial collapse, and Orbán was able to get several billion euros from the EU, confronting Kyiv. But this is not enough. So he must find a buyer for himself - Russia, China, or Iran.
You find out in our detailed review what is happening in Hungary, what the attitude towards Ukraine is, and with whom Ukraine should really continue the dialogue.
Isolated Hungary
Hungary has made it in the Ukrainian news for one of two reasons. Either when Orbán blocked something for Ukraine or when the European Union blocked money for Hungary.
If someone thinks that the Hungarians sabotaged aid to Ukraine because of some specific attitude, then we should disappoint you. Orbán simply blackmails the European Union, even achieving intermediate success. Although the EU found a way to overcome the Hungarian veto, they compromised eventually and allocated part of the frozen funds.
There is a lot at stake since Hungary has faced an ultra-deep financial crisis capable of collapsing its economy.
This happened for several reasons. First, Orbán, preparing for his victory in the 2023 elections, once again had inflated social and non-market benefits in Hungary. However, energy prices went up and the trade crisis due to Russian aggression was already on the threshold. At the same time, Orbán's destructive actions and his systematic work against EU unity finally made Brussels angry, which said "enough is enough" and froze funds for Orbán's government.
Europe has never been as negative towards the Hungarian government as it is now.
Orbán and his associates have long been breaking European unity on many issues, denying European values. But this year, Budapest has been outdoing itself. Orbán openly predicts the future conflict between Hungary and the EU.
The game's rules have undergone significant changes because Budapest continued and even intensified "good relations" with Russia after February 24. Based on that, Orbán government lost its last ally in the European community - Poland. It could not bear Hungary's support of the Russists. Therefore, Orbán has lost the opportunity to hide behind others' backs.
The confrontation in the EU has turned into "Hungary against everyone."
However, despite its open support of Putin's side, the Orbán regime is not pro-Russian. It is simply cynical, completely freed from binding values, and ready to cooperate with anyone who gives or at least promises money.
Money from hell
The European Commission dealt two powerful financial blows to the Orbán government in late 2022. First, it held back post-COVID-19 EU recovery money because of Hungary's democratic backsliding and concern about judicial independence. Second, Brussels withheld its Recovery and Resilience funds.
Hungary still cannot receive 5.8 billion euros of COVID money it was counting on and the additional "recovery" 7.5 billion euros. The annual revenues of the Hungarian budget are 60-70 billion euros, so freezing EU funds in this amount was very painful.
It overlapped with Orbán's social programmes, making one wonder how the economy was kept afloat in the EU common market.
As a result, the Hungarian forint has depreciated more than 10% against the euro and 20% against the US dollar. Hungary breaks EU inflation records. This was the reason for Orbán's shameful attempt to block the approval of a new EU package of financial aid for Ukraine worth €18 billion.
"Nothing personal, just EU blackmail."
Orbán feels happy now because this tactic has been fruitful. The EU unblocked 1.2 billion of 7.5 billion package and extended the deadline for fulfilling the European Commission's requirement for the "COVID" funds.
However, Orbán bears strategic losses.
The Hungarian authorities continue to look for opportunities to replace European money, making even more mistakes and strengthening its isolation in Europe.
This was the effect of Szijjártó's to Moscow, which broke the diplomatic blockade of Russia. Hungary did not win anything in Moscow but now Western politicians tend to compare Orbán to Hungarian Regent Miklós Horthy, who had supported Hitler during World War II.
The biggest strategic damage to Hungary can be caused by the fact that Orbán has started working against the US in search of money.
Orbán's government has long tried to attract Chinese investors, annoying Washington with these attempts. But in November, Hungary reached a new level, announcing the development of a partnership with Iran, a state from the "axis of evil" for the United States. Orbán wants to find cheap oil at any cost. But when this cost comes to destroying what remains of trust in relations with Washington, it becomes clear that the Orbán government's tactics is nothing but panic.
Is it possible to replace Orbán?
If we could relocate the Hungarian government to any other EU state along with the financial crisis, it would only be a matter of time before it fell.
But not in Hungary. Even the opposition here lacks faith that Orbán can resign democratically.
"Personally, I believe that our last chance to remove Orbán in the elections was this spring. We lost. It is possible now only in a revolutionary way. Orbán himself will never step down after four terms with absolute power," one of the Hungarian opposition MPs admitted in an off-record conversation with the EP.
Orbán's opponents do not will a revolution. At least, none of the opposition politicians has suggested this in an open conversation. However, at least part of the Hungarian opposition considers it.
Contrary to the stereotype, Orbán's propaganda does not replicate Putin's. Unlike in Russia, opposition media are not persecuted in Hungary, and opposition journalists are not imprisoned or killed.
"We do not experience problems with freedom of speech in Hungary. However, there are almost no nationwide free media. The government has achieved it not by bans or restrictions but by the financial support of loyal mass media. Pro-government media in Hungary have practically unlimited funding. This creates a very uncompetitive environment for free media. That is why non-governmental media exist mainly online supported by enthusiasts," said Gábor Kerpel-Fronius, the Deputy Mayor of the Hungarian capital, in a conversation with EuroPravda in Budapest.
It is true. Government propaganda has monopolised the print media market. It almost fully controls television broadcasts and does not want to give up online to the opposition. The opposition is convinced that the government uses troll and bot factories.
In addition, Orbán's powerful tool is information filth.
The Hungarian government spreads the blackest lies even through official channels. All the government media repeat the desired message many times and eventually, the audience gets the impression that this information is true.
However, sooner or later the government in Hungary will change because democracies work this way - even as limited as in Hungary. Given the level of economic challenges faced by Orbán's team, his deep conflict with Brussels and the very possible failure of the Hungarian economy, there is a chance that a new or at least a "renewed" government will emerge in Hungary sooner than expected.
What to expect from the Hungarian opposition?
The Hungarian government model of propaganda works on both sides of the Hungarian-Ukrainian border. Orbán successfully created in Ukraine the impression that Hungarian politicians and society are pro-Russian and oppose Ukraine's rapprochement with the EU and NATO, etc.
However, this is false.
We witness a unique situation when almost all opposition parties in Hungary support Ukraine. It is hard to believe but even the odious "Jobbik" has now become pro-Ukrainian.
In this photo, Gábor Kerpel-Fronius, mentioned above, is at the door of his waiting room. We can see children's drawings on the door with Ukrainian and Hungarian flags.
Gábor is the Deputy Mayor of Budapest and a member of opposition Momentum party. We can consider them centers of support for Ukraine.
There are other opposition parties. After all, read the interview of the Mayor of Budapest, who represents the Hungarian "Greens": "Mayor of Budapest: "I Do Feel Shame Orban's Hungary Seen as Country Siding With Russia".
But enough optimism. We must also realise that even if the opposition wins, the reconciliation process will take work.
Is a way out of crisis possible?
The Hungarian government and the opposition see differently how to overcome the crisis. While the Orban's party emphasises Ukraine's co-responsibility for the crisis in relations, the opposition admits that it is only Hungary's fault.
"I would like to say that (if the opposition wins. - EP) our relations will become good very quickly. But I feel that this is not the case. Hungary did not react to the national crisis in Ukraine as it should have. It left wounds. If a government is formed in Hungary, which is interested in Ukraine joining the EU as soon as possible and wants to be a good neighbour, we will find a way. But it seems to me that it will go very slow," Kerpel-Fronius admits.
No one knows for how long Fidesz will rule Hungary. But we certainly know that it will remain the EU and NATO member. If Ukraine wants to join these organisations, it has no other way than to set a dialogue with Budapest.
Fortunately, even the current government of Hungary does not include only "Orbán's avatars" in Ukraine's perception.
Currently, conflict narratives mainly come from two officials: Orbán himself and, to an even greater extent, Foreign Minister Peter Szijjártó.
All interlocutors related to bilateral relations agree: the meetings of the representatives of the two governments at the working level are fruitful. The heads of the General Staff agree on training for Ukrainian military medics in Hungary, representatives of the Ministry of Transport - on transit, and so on. Even concerning minorities, they could reach an agreement. But then the government leaders intervened and nullified all agreements.
It is hard to believe that this is possible without government changes. We cannot imagine a friendly dialogue with Budapest when Péter Szijjártó is responsible for relations with Ukraine. The head of the Ministry of Foreign Affairs had traveled to Moscow and Tehran in times of great war. He personifies insults and rudeness towards Ukraine.
Although nothing is impossible in politics. Especially for the current Hungarian government, which has long proven that values do not guide it but only interests, and is ready to change its rhetoric by 180 degrees if reality requires it.

Written by Sergiy Sydorenko,
"European Pravda" editor
We prepared the analysis based on conversations with representatives of the Hungarian ruling party, opposition parties, and representatives of the state apparatus, also on a trip to Budapest in November 2022
If you notice an error, select the required text and press Ctrl + Enter to report it to the editors.