"Ukraine Can Join NATO before War with Russia Ends" Interview with Ukrainian Government
Monday, 29 August 2022 —

, , European Pravda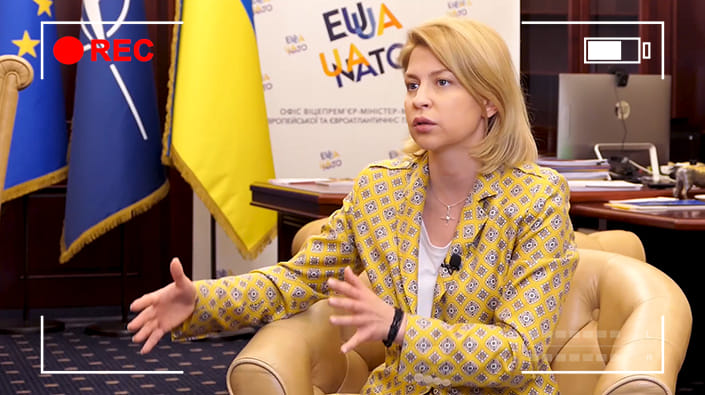 Olha Stefanishyna is the main Ukrainian official in matters of relations with the EU and NATO. As Deputy Prime Minister, she coordinates Ukraine's path to both organizations, working in this field for many years.
Since the full-scale Russian invasion, the EU has prioritised its role in Ukraine's future, while NATO has been very skeptical about it.
However, Kyiv plans to join both organisations. Stefanishyna spoke about it in an interview for "European Pravda."

"Ukraine can make it in three years"
- On June 23, Ukraine was granted EU candidate status. Let's try to assume - how long it will take to join the EU.
- I can assure you that it won't take decades. We are now making the initiative and will not wait for the EU to tell us what to do.
We should not be part of the Balkan expansion format. Unlike the Balkan states, we had already accomplished much under the Association Agreement. Even at war, we got transport visa-free, joined the European energy system, got cancellation of tariffs and quotas, etc.
We will state our expectations at the Association Council meeting in Brussels on September 5. I hope that at the end of the year, when the EU and Ukraine presidents meet, we will find out about the start of negotiations.
- How many years do we need?
- Ukraine can make it in three. Let's see if the EU can.
- When shall we expect the start of accession negotiations?
- 2023 sounds absolutely realistic.
Certain procedures are still on the list - legal screening, assessment of markets, and legislation. But it doesn't take years. Therefore, it is absolutely realistic to proceed with negotiations in 2023.
- Will it be normal for the EU to start negotiations with a state at war?
- Even at war, the Ukrainian government remained fully functional. We have a capable government, regional authorities, parliament, and all public sector links, including the judicial system. Therefore, there are no obstacles to conducting negotiations.
We have also come up with a formula by which we can fulfill our commitments to the EU in times of war. Some legislative acts will enter into force during martial law and some - when the war ends.
- You mentioned that Ukraine would not join the Balkan expansion wave. Can we avoid the fate of some Balkan countries that have been stuck for many years?
- Ukraine "knocked" on the EU door from a different position or even knocked out this door. We are in a different situation.
We will not celebrate each chapter of the EU Accession Agreement nationally. Although we have just recently obtained candidacy, we are very advanced in negotiations with the EU, in understanding what the EU is capable of and what it is not. And we also understand the solution lies in the capitals. We will systematically work with them.
"Ukraine's EU accession can be blocked? We cannot rule it out"
- Do you believe that EU countries will block Ukraine's accession, as Bulgaria blocks North Macedonia?
- It is possible. Before the candidate status, it was the same: some prime ministers told our politicians: "Stop visiting us. We will never agree."
They had said it actually two weeks before the EU Council meeting. They backed us eventually.
Therefore, we do not rule out such a possibility, but we are determined to overcome these challenges.
- To start accession negotiations, Ukraine must fulfill seven requirements, as decided by the EU summit. Among them is the bill on national minorities, which for some reason was renamed "national communities." Do you expect any surprises from Hungary?
- The issues of national minorities and their languages are sensitive in negotiations with the EU, not only for Ukraine.
We are working with minorities on this bill. It is clear that there are no perfect bills. Even when all the recommendations are followed, the discussion will never end. Therefore, we want to adopt the framework legislation and then form a state program that takes into account the interests of each individual minority.
The Venice Commission is supposed to study Ukrainian draft laws and promptly consider them.
- Will Hungary block our EU accession until all minority issues are resolved, as Budapest wants?
- I hope not, but we do not rule out such a possibility.
Representatives of other minorities and politicians of the respective countries are more constructive.
The issue is really sensitive, even now, in times of war. We are ready for dialogue. We see other countries' experiences and understand that some matters require compromises.
- Perhaps nobody expected to see compliance with the FATF on the requirement list. Ukraine doesn't have issues with the FATF. Has anyone explained what they want from us?
- In early September, the EU should explain which FATF recommendations they consider important. Until now, the EU was not ready to explain it to us in an understanding way.
In general, Ukraine can fulfill the FATF recommendation either in September or never. It depends on the mood in the European Union. No country can fulfill FATF recommendations 100% (the other day, FATF criticized Germany - EP).
We discussed each of the seven requirements with the European Commission to write down our common expectations. So when we have our work done, the EU won't say: No, we saw it a little differently.
The progress we will demonstrate in September will positively impact skeptical EU member states. We are already preparing draft laws. We also appointed a special anti-corruption prosecutor.
"Ukraine No Longer Wants Map Status of NATO"
- Will Ukraine join NATO?
- Definitely, if NATO exists until such a window of opportunity opens.
- You do not rule out other outcomes. Is there a reason?
- Currently, even the coordination of security assistance for Ukraine is decided outside the Alliance. The Alliance's strategic concept does not clearly define how it will transform.
Ukraine is already as close to the Alliance as possible without membership.
- We can feel skepticism towards the Alliance. Do we still need a membership?
- We have to sit at the table when it comes to the collective security system.
We must be there if NATO is to be the platform that will solve these issues in Europe. If it's Ramstein or any other format, we'll be there.
Ukraine has repeatedly stated its desire to join the Alliance. The decision must be made in Brussels.
The window when NATO can decide on our accession may open even before the war ends.
- Russia demands that Kyiv abandon its aspirations to join NATO. Is it possible that we will agree to this in exchange for peace and security guarantees?
- Please note: Russia has not made such statements for long. The war leveled Russia's narratives about the "threat from NATO" or the "protection of Russian speakers" and many other things that the Alliance was afraid of, saying "we should not annoy Russia."
Therefore, we should not take any of Russia's statements too seriously. The prospect of negotiations with the Kremlin is currently invisible.
- Can a state with occupied territories and a conflict with its neighbor join the Alliance?
- Yes, it can. Former NATO Secretary General Rasmussen offered formulas for such countries.
But we must return to our reality. Our aspiration to join NATO is now a little different than in the past.
We once aspired to join NATO to become part of a collective security system and avoid a major war. This did not happen. The full-scale war is going on. NATO, as an organisation has nothing to offer us. We work with allied states, and they tend to cooperate bilaterally.
Russian speculations about the "threat" from Ukraine's membership have disappeared from the NATO discourse - especially after Sweden and Finland applied for membership. Everyone sees that Russia is weak. It means Ukraine's NATO membership cannot be rejected. Thar is exactly what the allies have been doing since 2008 because they were afraid of Russia. Ukraine will be a very strong NATO member.
- Does Ukraine need an action plan for NATO membership?
- If Ukraine had been offered a MAP before February 24, we would have been as satisfied as possible with this decision, even happy. We would have believed that we fulfilled the requirement of our Constitution and it was the only correct decision. Today, the MAP within NATO would be equivalent to the decision of the Bucharest Summit in 2008 (when the Alliance, under Putin's pressure, refused to provide Ukraine with a MAP - EP).
I, as a responsible deputy prime minister, have just started an audit of compliance with NATO standards of our security and defense sector and other structures. The results are impressive. We have already implemented many NATO practices without even noticing it.
The Armed Forces of Ukraine are now gaining unique combat experience that the army of NATO allies does not have.
"We need an army of negotiators"
- Together with Ukraine, Moldova was granted candidate status. Are we in the same package now? Will one of the countries not slow down the other?
- We understand the EU is committed to the policy of package solutions. Therefore, we are very interested in Moldova following Ukraine at the same pace. I am sure that Moldova will never slow down Ukraine, and Ukraine is not going to slow down Moldova.
We will be glad to join the EU together with Moldova.
- Do you think it was fair that Georgia was not granted candidacy?
- I feel sorry Georgia did not make it.
But when the European Commission evaluated Ukraine, we had undeniable indicators. EU membership support by citizens reached 91%, which showed stability of the European orientation. We have gone far reform-wise. European aspirations are enshrined in the Constitution. As for Georgia, the EU seems to have been not so confident it would be as predictable in terms of its European aspirations. I think it was significant.
Unfortunately, the long reform path Georgia had taken can be leveled by inner political conflicts.
Their commitment to common foreign policy, common security policy, and democratic principles in times of war in Ukraine is also important. I am sure Brussels observes it very clearly.
- Ukraine is currently implementing the EU Association Agreement. Will this change?
- We want to fulfill the Association Agreement as much as possible by the end of this year. We will focus on new obligations before the accession negotiations.
- Is Ukraine ready for these negotiations?
- The parliament is currently preparing amendments to the regulations. Changes to the regulations of the Cabinet of Ministers have already been made. We are strengthening the government office and the ministries. We are forming a new generation of civil servants who will go to the College of Europe. They will be able to negotiate with the EU. We need an army of negotiators.
- In order to help Ukraine, the EU canceled customs duties for Ukrainian exporters, but only for one year. What's next?
- We will ask the EU to extend it as long as the hostilities last.
The same applies to the agreement on transport liberalisation, which is also valid for a year.
Even if the war lasts, we should not stop EU integration. We can make decisions in times of war - for example, the full integration of Ukraine into the common market.
In this case, we have to join the EU common market. When Ukraine wins, the European leaders will only have to make a political decision, the same as what happened with the candidate status.

Interviewed by Sergiy Sydorenko and Yuri Panchenko
"European Pravda" Editors
Filmed by Volodymyr Oliinyk
If you notice an error, select the required text and press Ctrl + Enter to report it to the editors.