Germany is Provoking War and Ruins its Future in Ukraine. This Must Stop
Monday, 24 January 2022 —

, Editorial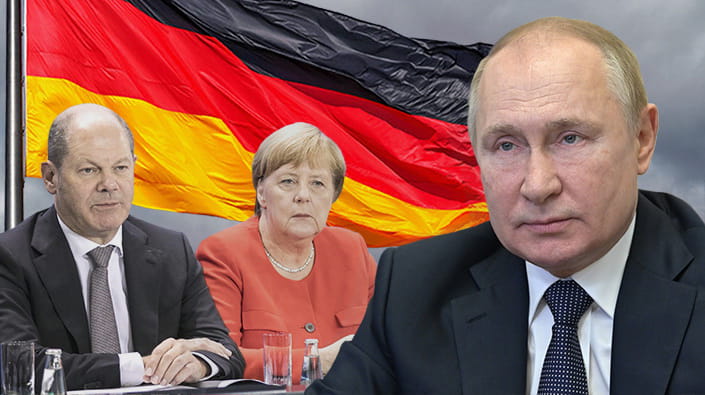 This article is an editorial, meaning that it is signed and supported by all of our journalists. The European Pravda publishes such articles only when Ukraine finds itself in decisive circumstances.
We have published this article also in German translation.
* * * * *
On January 22nd, the relations between Ukraine and Germany were on the edge of a catastrophe. German Vice Admiral Kay-Achim Schönbach had to resign following his scandalous remarks during his official trip to India.
Vice-Admiral Schönbach publicly called on the world to respect Putin, expressing confidence that Crimea's annexation is irreversible, that neither Ukraine nor Georgia will ever accede to NATO and many other things that contradict Berlin's official stance.
His remarks sparked outrage in Ukraine, prompting the Ukrainian Ministry of Foreign Affairs to react and summon the German Ambassador for clarifications.
At first, the German Ministry of Defense's response was limited. However, once the flames of the scandal engulfed the German mass media, the Minister of Defense Christine Lambrecht urged Vice-Admiral Schönbach to retire immediately – an understandable move since military figures should refrain from making political statements.
Although this decision provided instant relief, it seems that Ukraine-Germany relations are facing an even bigger threat.
While Berlin believes that the fast and harsh response to the Vice Admiral's claims is a good enough measure to solve the problems and calm Ukrainians down, it is not so. The indignant story was effectively the last straw following the series of news stories coming from Germany (and relating to it) in the span of the last weeks and days. It is just that Mr. Schönbach was far too candid in expressing his views (that are likely shared among others in Germany), taking the entire matter to a whole new level.
The European Pravda would like to emphasize that we scorn the current situation as it affects both Germany and Ukraine's interests. This editorial is, therefore, an attempt to inform Berlin about how grave the matters really are.
We are aware that the German government has put a lot of effort into promoting democracy in Ukraine, supporting reforms like decentralization. We are also thankful for the medical treatment it provided to the Ukrainian soldiers wounded in the Russia-Ukraine war.
Likewise, we realize that Germany held one of the key roles in the implementation of the sectoral sanctions against Russia in 2014 and is continuously upholding them (even if we turn a blind eye to the fact that these sanctions were launched after the Russian army had killed over 200 EU citizens by taking down the MH17 plane; the far higher number of dead Ukrainians had not prompted the actors to even discuss their possible launch). Besides, the German Embassy in Ukraine is very much devoted to improving Ukraine-German ties.
Yet these facts do not matter as much to Ukrainian society compared to other circumstances.
At the moment, Ukrainians perceive Germany as a country that:
– bans the sell of its weapons for defending Ukraine' territorial integrity
– blocks the supply of weapons from other Allies by abusing the existing NATO mechanisms, undermining Ukraine's defense capability
– blocks Ukraine's rapprochement with NATO
– built Nord Stream 2, clearing the way for Russia to potential launch a military attack on Ukraine with no threat to Russia's energy supply to the EU
Put it bluntly, Ukrainian society is increasingly perceiving it as an aggressor's accomplice.
This might sound harsh. But it is true.
And this is a true catastrophe that will worsen over time.
This is the society's perception of the situation. But these popular thoughts are confirmed, once and again, by vocal remarks of politicians and officials such as Vice-Admiral Schönbach and Markus Söder.
More so since Germany has a special relationship with Russia, not Ukraine. This holds for all areas, including those relating to the historical matters and Germany's post-War policy of reconciliation, based on the country's concept of Collective guilt for the Nazi crimes. Peculiarly, however, Berlin considers Ukraine, which lost a quarter of its population in World War II, to be of lesser importance than Russia in this respect.
We put the Nord Stream 2 pipeline at the bottom of the list of Germany's catastrophic actions as security matters are of utmost importance for the long-term consequences of Germany's changing reputation.
We are well aware that Germany's policy of not supplying weapons is rooted in the tragic events of the 20th century, which explains why Berlin tries to avoid being blamed for any conflicts (Its claim that it must remain neutral because it participates in the dead Normandy format is a justification that no one buys).
Yet, in reality, Germany's policy results in completely the opposite: it becomes part of the conflict, joining the aggressor's side.
It even somewhat replicates the events of 1939 when the agreements between Nazi Germany and the USSR effectively lay the ground for the subsequent large-scale tragic events.
As a result, the country's image will likely take a serious and durable hit, which, in the modern world, leads to financial losses as well. Despite all its problems, Ukraine is a country home to 40 million people located in the heart of Europe, has plenty of resources, and educated people.
If Germany continues to build up its reputation of a country that supports Russia's aggression, this will lead to dire consequences. Berlin must, therefore, reconsider its policy as fast as possible as we are talking about ramifications, which will be tangible for decades.
Although it is common for countries located on the same continent to have quarrels and experience highs and lows in their relations, there are certain exceptions.
Such as wars.
Wars become part of the nation's genetic code. Some nations become friends, others are perceived as enemies or their allies. The Russian military aggression against Ukraine is forming this kind of genetic code.
It takes decades and heaps of effort to fix that.
Yet, there is a glimpse of hope. Germany still has the opportunity to overturn its policies relating to Russia's military aggression against Ukraine effective since the Merkel government.
Berlin's recent actions have sparked outrage even outside of Ukraine. The route of Britain's military planes supplying weapons to Ukraine is a vivid illustration. To avoid asking the ally's permission, the planes circumvented Germany's airspace – a case of distrust, the importance of which Berlin seems to have once again downplayed.
Germany can change these negative dynamics. The new German coalition government can and must discard its aggressor-supportive policy in principle.
If Berlin fails to do so, Ukrainian society will make an inevitable conclusion: Vice-Admiral Schönbach was punished for unauthorized disclosure of the government's real stance, not the shocking content of his remarks.
If you notice an error, select the required text and press Ctrl + Enter to report it to the editors.